GOLD PRICES rose to 1-month highs above $1300 per ounce Wednesday in London, gaining for the fourth day running ahead of November's Federal Reserve decision on Dollar interest rates – its last before the bitter US presidential campaign peaks with next Tuesday's vote.
World stock markets fell again as new opinion polls showed Republican candidate Donald Trump gaining on Democrat Hillary Clinton
to tie in the race
for the White House.
Commodities also fell as crude oil sank back towards $45 per barrel.
Other precious metals moved higher with gold prices, but
platinum lagged
the yellow metal's 2.0% jump for the week so far to trade at $995 per ounce.
Silver doubled gain in gold prices to hit $18.63, its own new 1-month high.
"A witches' brew of economic and political factors continue to make the macro case for gold," writes Jonathan Butler in his latest Precious Metals Weekly at Japanese conglomerate Mitsubishi, pointing to "ultra-loose global monetary policy to the US presidential election" and citing gold's role "as a portfolio diversifier and tail risk hedge."
Gold and the other precious metals however "face headwinds" Butler adds, with the US Fed's much-anticipated December rate hike supported by Monday's "healthy core PCE inflation reading of 1.7%.
"Provided Friday's non-farm payroll data do not move lower, this will also be supportive of a December hike."
US jobs data from private-sector payrolls service ADP today badly missed Wall Street forecasts, coming in with 147,000 net growth for last month – the weakest October since the US was last in recession in 2009.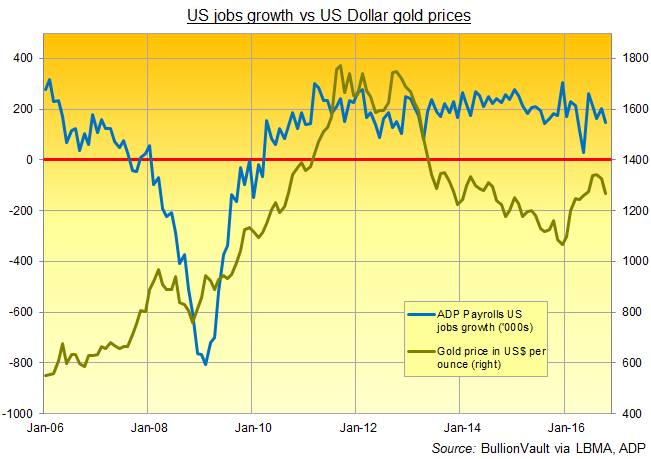 "What will be closely looked at is the wording of [today's] accompanying [Fed] announcement," says London brokerage Marex Spectron, with "any affirmation" of a December hike likely to "see a dip in the gold price.
"But this should be bought with the election looming."
Gold prices "surged higher overnight in light of a possible Trump victory," says a trading note from Swiss refining and finance group MKS, as US polls also "weighed on equities and gave the precious a firm bid."
"At the same time, risk aversion has risen noticeably," says the commodities research team at Germany's Commerzbank, highlighting the 4-month closing low in US equities on Tuesday.
"Although Clinton is still considerably ahead when it comes to the key electoral votes, next Tuesday could prove more of a nail-biter than had been thought just a few days ago.
Dollar gold prices twice rose above the $1300 level in the weeks approaching the UK's decision on quitting the European Union, slipping back before June 23rd's vote but then surging to $1375 in the weeks after that shock result.