GOLD PRICES slid Monday in London, losing more than $15 per ounce from Friday's new 8-month high for US Dollar investors as No. 1 consumer nation China shut for the Lunar New Year holidays.
World stock markets meantime ticked lower and oil prices hit 2-month highs amid the worsening crisis in the energy resource's No.1 reserves holder Venezuela, plus growing US-Russia tensions.
Gold bullion prices fell to $1310 per ounce as the US Dollar bounced on the currency market following 2 consecutive weeks of declines.
"[Friday's] upbeat non-farm payroll suggests the US economy is riding a strong momentum, dampening demand for safe-haven assets like gold,"
Reuters quotes
one spread-betting brokerage.
Ending last week with the Federal Reserve holding its key interest rate unchanged, January however saw gold-backed ETFs increase their holding "by over 70 tonnes," notes German bank Commerzbank.
"That is almost equivalent to the total inflows of last year."
Due to the New Year's partial US government shutdown, US regulator the CFTC remains behind with updates to positioning data in precious metals futures and options contracts.
But new figures released Friday confirmed that hedge funds and other speculators in the Managed Money category grew their bullish betting on gold prices as 2018 ended, capping their longest run on record of bearish bets.
US benchmark WTI-grade oil contracts meantime rose above $64 a barrel on Monday as supply cuts from the Opec cartel of nations, plus new US sanctions against Venezuela's petroleum industry, spurred talk of a supply crunch.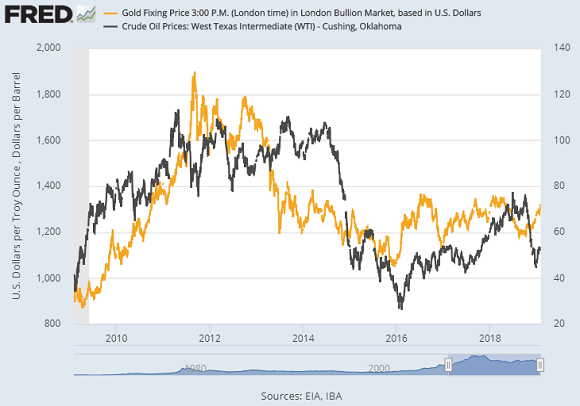 The US State Department's move to block the sale of Venezuelan crude aims to force President Nicolas Maduro to hand power to rival Juan Guaidó – now recognized as interim leader of the Latin American nation by Washington plus Australia, the UK, Spain, France and Germany.
Venezuela's ally Russia warned the US against "destructive meddling".
The BBC meantime quotes "a senior Western diplomatic source" that
Turkey has been "warned"
against accepting any more gold from Venezuela – most especially with "growing suspicions" that it is then busting other sanctions to re-export the metal to Iran – after importing nearly $900m-worth last year.
After the United States said on Friday it will withdraw from a 1987 arms controls pact with Russia in 6 months' time unless Moscow ends what Washington says are violations, President Vladimir Putin
suspended the Intermediate-range Nuclear Forces Treaty
with immediate effect on Saturday.
Silver prices
today fell harder than gold, retreating 3.0% from Friday's top above $16 before rallying 10 cents to $15.82 per ounce.