GOLD PRICES recovered a $5 drop in London trade Thursday as the US Dollar eased back from this week's gains on the currency market following a surprise rise in the number of Americans filing for jobless benefit claims.
The Euro gold price in contrast held firm near the highest since April 2017 at €1155 per ounce as France recalled its ambassador to Rome over what Paris called "
outrageous statements
" from Italy's deputy prime-minister Luigi Di Maio, "exploiting relations for electoral purposes."
Leader of Italy's self-declared 'anti-establishment' M5S party – now in coalition with the right-wing Lega – "The winds of change have crossed the Alps," tweeted
Di Maio after meeting
self-appointed leaders of the gilets jaunes protesters, now planning to stand in May's European elections.
Oggi con @ale_dibattista abbiamo fatto un salto in Francia e abbiamo incontrato il leader dei gilet gialli Cristophe Chalençon e i candidati alle elezioni europee della lista RIC di Ingrid Levavasseur.
Il vento del cambiamento ha valicato le Alpi. pic.twitter.com/G8E0ypLalX

— Luigi Di Maio (@luigidimaio) February 5, 2019
Having spiked to the
highest since September 2017
in late January, new US claims for jobless income support last week came in only 7.5% lower, barely half the drop Wall Street analysts forecast.
Priced in the Dollar, gold prices had briefly dipped below $1303 per ounce for the first time in a week in Asian trade, where financial markets in China – the world's No.1 gold consumer market – remain shut for the Lunar New Year until Monday.
The
UK gold price in Pounds per ounce
meantime rose to £1015 – a 16-month high when first reached at the start of January – as the Bank of England cut its UK GDP forecast to the slowest growth since the global economic slump of 2009.
As the Dollar weakened in 2016 and again in 2017, gold prices traded higher for US investors than for non-US investors, but the metal has been stronger against non-Dollar currencies since the start of 2018.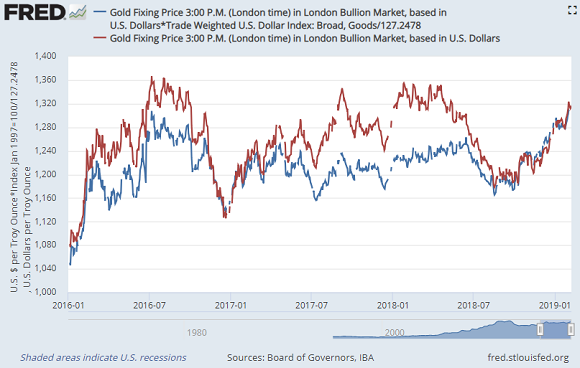 "Global slowdown concerns saw the Dollar gaining and gold moving down," Reuters quotes one spread-betting analyst.
But while gold prices are "pressured by a stronger Dollar," says the Wall Street Journal, they "remain near their highest levels since June" in USD terms.
The Reserve Bank of Australia yesterday held its key interest rate at a record low of 1.5% and warned that GDP
growth looks "weaker than expected
…due to slow growth in household consumption and income."
Keeping UK interest rates near all-time lows and maintaining £435bn of QE bond purchases, the Bank of England
today cut its 2019 UK GDP forecast
from 1.7% to 1.2%, pointing to a drop in business investment, in new home-building, and in export growth.
UK Prime Minister Theresa May meantime had "
robust but constructive
" talks on Brexit – set to take effect on 29 March – with European Commission President Jean-Claude Juncker in Brussels today.
Further talks are now due for end-February, while UK and European Union negotiators seek "a way through" on the Irish backstop.