GOLD PRICES held flat in US Dollar terms in London on Wednesday, keeping a $5 drop for the week so far but rising towards new all-time highs for households in world No.2 consumer market India.
Euro gold and the
UK gold price in Pounds per ounce
 both rose, hitting 22-month highs above €1155 and 3-week highs at £1017 respectively as politicians from the European Union and the UK got no nearer to resolving the 'Irish backstop' part of their Brexit deal rejected by lawmakers in London last week.
I've been wondering what that special place in hell looks like, for those who promoted #Brexit, without even a sketch of a plan how to carry it out safely.

— Donald Tusk (@eucopresident) February 6, 2019
Gold priced in Dollars meantime held around $1313 as world stock markets slipped after US President Trump's annual State of the Union address called for an end to what he called "
the politics of revenge
" but failed to highlight any progress in the key US-China trade talks.
"Relatively muted price action again for bullion during Asian trade today," says one trading desk, noting the absence of No.1 consumer market China thanks to this week's Lunar New Year holidays.
Over in India however – the metal's second largest consumer market – retail gold prices today reached above 33,000 Rupees per 10 grams
in Mumbai
and over Rs 34,000
in Ahmedabad
, nearing new all-time record highs.
Coming after wholesale gold prices in India last week rose to a slight premium to global quotes, these levels match the record-high Rupee cost for consumers of August 2013, when India's then-Congress Party government rushed out
a series of severe anti-gold import rules
to try and stem the country's huge balance of payments deficit, worsened by record-high gold demand amid the metal's steepest Dollar-price drop in three decades.
India today continues to charge 10% import duty on gold bullion, plus extra VAT sales tax on jewelry since 2017.
Wholesale prices in the sub-continent have now traded at a discount to London on 75% of all business days over the last 3 years
according to data
compiled by the mining-industry backed World Gold Council, suggesting weak domestic demand against plentiful supply.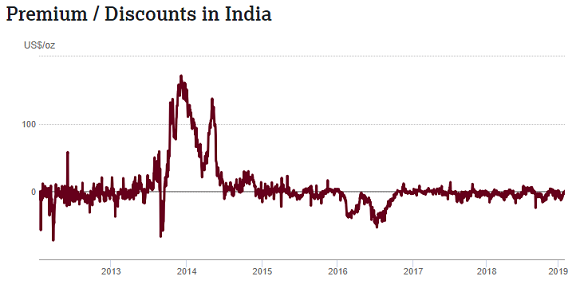 "Despite high prices, demand for gold jewelry has been good, mainly due to the ongoing wedding season," the Times of India quotes one retailer.
"We expect purchase to remain good for another month, before the Holashtak or inauspicious period sets in."
Late-2018's rising gold price for India consumers "saw a rise in the number preferring to exchange existing gold for new pieces" said the WGC of India's jewelry business in its
global demand update last week
.
"This was particularly prevalent in the south and west regions, where some retailers reported an increase of up to 45% in [this type of] exchange activity."
India's police and Customs officials meantime report "an extra push from smugglers to bring in more quantity of gold," reports the New Indian Express, with gangs looking to exploit today's near-record high retail prices for legally-imported and retailed products.
"When smugglers used to bring less than a kilo of gold before," says Customs Commissioner Sumit Kumar, "they
now take additional risk
and smuggle in more quantities."
Following last week's pre-election giveaways in
India's national 2019 budget
– widely expected to boost gold demand in the key rural states – the finance minister of
Assam today promised
a raft of subsidies and gifts for the northeastern state's citizens, including free electric bicycles for each student passing this year's senior school exams, rice priced at just 1 Rupee per kilo for 5.3 million families, and 1 tola of gold (currently worth around $500) for brides whose families earn less than $7,000 per year.
Formerly a politician for the Congress Party – dominant in Indian politics until Narendra Modi's victory in 2015 – Himanta Biswa Sarma
quit to run on the ticket
of today's ruling BJP in May 2016.