GOLD BARS slipped near fresh multi-month price lows in London trade Thursday as the Bank of England raised UK interest rates and new data showed the weakest 6-month demand worldwide since the global economic slump of 2009.
Falling against all most currencies bar the Euro and Australian Dollar, gold bullion dropped to $1214 per ounce for US investors, just $3 above July's 12-month low.
UK investors trading wholesale gold bullion bars saw the price rally £5 per ounce to £933 as Sterling fell on the currency market following the
BoE's widely expected decision
.
"Gold demand stayed soft" in the second quarter of 2018, the mining-backed World Gold Council said in its latest
Gold Demand Trends
report.
"The H1 total is the lowest since 2009…[as] ETF inflows steadied at low levels…jewelry demand dipped…[and] central bank buying also slowed."
Among retail investing products worldwide,
gold bars
and coin demand "was virtually unchanged" from the April-June period last year "as growth in a few key markets cancelled out weakness elsewhere."
On a rolling 4-quarter basis, total visible demand was the weakest since the 12 months ending Q2 2010 – a period which
saw India turn into a net exporter
for the first time since the 1930s' Great Depression as the global economy slumped amid the US-led banking crash.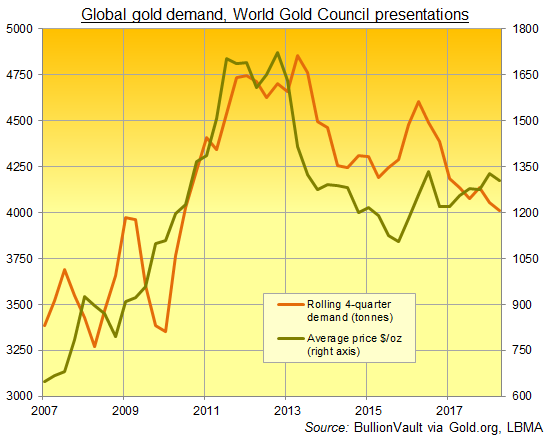 Gold bar holdings for the giant SPDR Gold Trust (NYSEArca:GLD) shrank again Wednesday, falling by 4 tonnes as shareholders sold out of the stock.
That took the largest gold ETF's backing down to 796 tonnes, just above July's 11-month low.
Shanghai premiums meantime steadied around $4 per ounce above London gold bar quotes as the Chinese Yuan edged down to new 14-month lows versus the US Dollar on the FX market.
"Weaker economic prospects and tumbling currencies off the back of heightened tensions with the US boosted Chinese and Iranian gold demand [in Q2]," says the World Gold Council's head of market intelligence Alistair Hewitt.
But "US investors shrugged off any geopolitical concerns," he says, with retail bar and coin demand little changed near multi-year lows and North American ETFs recording 2.3% net outflows between end-March and end-June.
Household gold demand in No.5 consumer Turkey fell 37% from a year earlier as the Lira sank amid high inflation and low central-bank interest rates.
The Lira sank Thursday to a fresh all-time low after the US Trump administration
imposed sanctions against
the Government of newly-executive president Recep Tayyip Erdoğan over the continued detention of a US pastor for espionage.
Iran's gold demand meantime leapt in Q2 to the strongest level since the start of 2015 on the World Gold Council's data – compiled by specialists Metals Focus – led by a 3-fold rise in bar and coin buying as Trump quit the previous White House administration's deal on nuclear research and re-impose sanctions against the theocratic regime.