GOLD PRICES fell hard Friday in London, retreating beneath this week's previous lows for Dollar investors after new US jobs data smashed analyst forecasts.
Gold priced in the US Dollar fell to $1282 per ounce – just $10 above last week's new 2018 lows – as the
UK gold price in Pounds per ounce
fell to £972, down 1.7% from Tuesday's spike to 8-month highs.
Asian stock markets had earlier closed higher, regaining half of this week's previous 1.7% loss, while European equities rose but held on track for a 1.3% weekly loss as Spain and Italy prepared to swear in new government leaders from their socialist and anti-Euro parties respectively.
Gold priced in the Euro currency traded down to €1107 per ounce, 1% below last week's finish – the highest Friday close since last September – and almost 2.5% below Tuesday's spike when Italian bonds sank and interest rates jumped amid Rome's political confusion.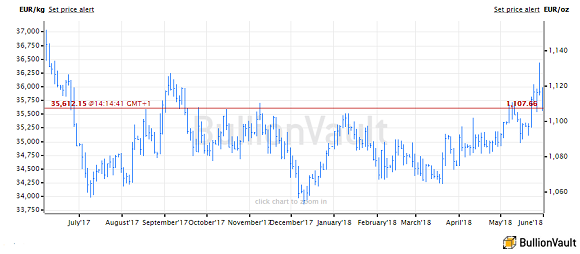 "The US is
playing a dangerous game
," said European Union trade commissioner Cecilia Malmstrom today as the economic union issued a 10-page list of new import tariffs on US goods in retaliation for what's being called "Trump's trade war".
With US wages rising 2.6% per year and the unemployment rate dropping to its lowest since the DotCom Bubble peaked in 2000, May's non-farm US payrolls estimate today showed net growth of 223,000 jobs, way ahead of Wall Street's consensus forecast and some 6% greater than the last 5 years' average monthly growth.
Looking forward to seeing the employment numbers at 8:30 this morning.

— Donald J. Trump (@realDonaldTrump) June 1, 2018
"This is…unusual," said Bloomberg columnist Lisa Abramowicz.
"The jobs number lockup is taken very seriously – or always has been," said MCNBC anchor Stephanie Ruhle.
Already falling before the official data release, US government bond prices extended their retreat from Tuesday's plunge to 7-week lows, pushing longer-term interest rates higher again.
Two-year US yields
then rose to 2.48% after the jobs data, erasing the last of this week's drop.
"Be aware of
sudden and strong movements
around the [jobs data] release," said today's bullion market note from Belgian refiners Umicore.
"It was a
typical pre-NFP session
" in Asia overnight, said Swiss refiners MKS, "with traders and investors happy to await the data."
"We are bearish to neutral on gold prices," says a new note from French investment and bullion market-making bank Societe Generale.
"[Even] our neutral stance is predicated on a set of potentially bullish drivers," says SocGen, forecasting end-2018 gold prices of $1285, "including the US mid-term elections (November), ongoing geopolitical risks and a maturing economic cycle."
Forced to quit today after 7 years as Spain's prime minister by
a vote of no confidence
, "It is an honour to leave a better Spain than I found," said Mariano Rajoy of the right-wing People's Party, whose former treasurer and other senior figures were convicted last week of multi-million Euro corruption, money laundering and false accounting.
"We're going to
sign a new page in the history of democracy
in our country," said Socialist leader Pedro Sánchez, preparing to meet King Felipe after getting the backing of would-be breakaway politicians in Catalonia and the Basque region.
The spread of Italian bond yields over comparable German Bund interest rates meantime eased back once more, falling to 2.3 percentage points from Tuesday's spike to 2012 levels above 3%, as Italy's new prime minister Guiseppe Conte prepared to meet President Matteralla.
Negotiations over who will be in the governing coalition of rightwing Lega and leftwing M5S politicians last night involved "
a thousand twists
, mutual distrust and exaggerated tactics" according to sources quoted by
Corriere Della Sera
.
Silver meantime held firmer than gold, trading little changed from 1 week or 1 month ago at $16.43 per ounce.