GOLD INVESTING prices slipped towards 8-week lows against a rallying US Dollar as Monday brought a start to the second half of 2017, while world stock markets rose and crude oil extended its recovery ahead of tomorrow's Fourth of July holiday, writes Steffen Grosshauser at BullionVault.
With gold dropping to $1226 per ounce, silver and platinum also reached their lowest Dollar values since early May at $16.29 and $908 per ounce respectively.
The US Dollar Index bounced against a basket of other major currencies but stayed close to a 9-month low after new data said activity in the 19-nation Eurozone's manufacturing sector accelerated to a 6-year high last month.
European stocks advanced for the first time in five days and Asian stocks started the new month close to 2-year highs.
Oil prices meantime rose for the eight straight day – their longest rally since February 2012 – on what analysts
called "tightening" supply
amid the Opec oil cartel's agreement on output caps.
"The safe-haven buying that had pushed gold to an eight-month high earlier [last] month has slowly petered out, with risk-appetite improving in recent days," according to a note from Australia's ANZ Bank.
For equities in contrast, "Every day seems like a bull market," says Terence Hanlon, president of Dallas-based precious metals wholesalers Dillon Gage. 
While the S&P500 index gained 8.2% in the first half of 2017, gold priced in Dollars gained 8.4%.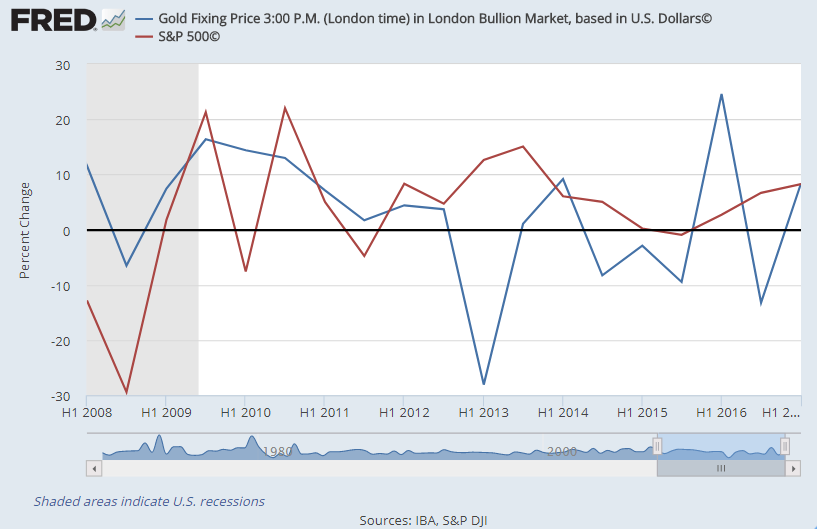 Retailer demand for American Eagle gold coins fell in January to June 2017 to record the weakest first-half investing total since 2007, sales data from the US Mint show.
Competitor coin and bar producer the Perth Mint in Western Australia said today its sales of retail gold-investment products
fell 35% last month from May
, also pulling down the year-on-year comparison.
Chinese gold prices fell overnight to their lowest Yuan value since mid-March, but their premium over comparable quotes in London – heart of the world's wholesale bullion trade – held near $10 per ounce, just above the typical incentive to new imports into the world's No.1 consumer nation.
World No.2 India saw gold imports through the key hub of Ahmedabad sink 60% last month from May, the
Times of India
reports, as dealers enjoyed a surge in demand but
stopped stockpiling ahead
of last weekend's imposition of 3% GST sales tax, now widely expected to temper household purchases already weakened by the seasonal summer lull in Hindu wedding and festival dates.
The new rules – now applied to goods and services across the world's second most populous nation – risk
distorting India's gold market
, the Association of Gold Refineries & Mints (AGRM) warns, because the 3% General Sales Tax introduces a "huge pricing disadvantage" for its members working outside the country's excise-free enterprise zones.