GOLD PRICES retreated near 3-month lows in London on Friday, rallying just $2 per ounce from $1306 as world stockmarkets fell with commodities following stronger-than-expected US inflation data ahead of next week's Federal Reserve interest-rate decision.
The Bank of Japan also meets to announce policy next Wednesday, with
analysts split over whether
it will expand or reduce its sub-zero rate and QE asset purchase programs after two decades fighting negative inflation and poor economic growth.
US consumer prices, excluding energy and food costs, rose 2.3% in August from 12 months before, matching February's 4-year high.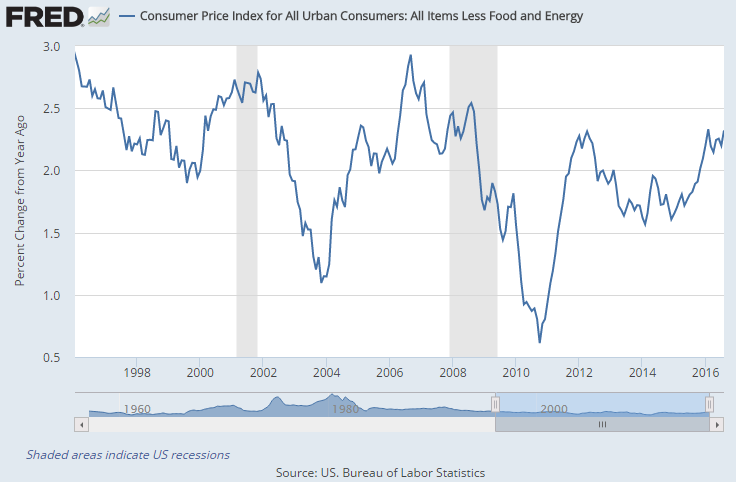 European equities lost 1.5% for the day, heading for their
worst week since May
, while US crude oil contracts fell to 1-month lows beneath $43 per barrel.
Silver followed gold prices lower, dipping below $18.70 per ounce to trade over 7% beneath last week's 1-month high.
Major government bond prices held firm however, keeping 10-year US Treasury yields below this week's new post-Brexit high of 1.73%.
"Uncertainty is likely to continue to breed volatility until after the Fed and BoJ meetings," said a note Thursday from precious metals strategist Tom Kendall at Chinese-owned investment and bullion bank ICBC Standard in London.
"Once those are out of the way…a relief rally in fixed income seems far more likely than a descent into the abyss. In which case gold should be lifted as real yields slip lower once again."
"All other things being equal," agrees a note from the precious metals analysts at investment and bullion bank HSBC, "a decline in rate-hike expectations should be bullish for gold.
But that means the last 2 days' "drop in [bond] yields should have supported gold more than it did…[suggesting] there is more to gold's sluggishness.
"Some of this," says HSBC, "may be traced to weak physical demand" from key gold-consuming nations.
Gold imports to Turkey – formerly the world's No.4 heaviest buyer, but now behind Germany – almost
halved in July from June
, said data this week from Borsa Istanbul, "down over three-fold from 15.1 tonnes a year earlier" notes specialist news and data providers Platts.
Gold imports to India – formerly the world No.1 but now behind China as the government launches
a raft of schemes to deter household demand
– meantime showed a 77% slide in August from 12 months before in US Dollar terms, the Press Trust reports, totaling only $1.1 billion.
"Total official gold imports declined to 60 tonnes in April-July," the PTI adds, "much lower than 250 tonnes in the year-ago period."
This year's monsoon rains – a key driver of rural incomes through crop yields – are now heading away from the subcontinent after reaching 95% of average levels.
"Two consecutive years of deficient monsoon rainfalls have taken their toll on…rural spending," noted market-development organization the World Gold Council in its
latest global demand trends
report.
This year's improved rainfall "is good news for farmers," agriculture minister Radha Mohan said at a press conference yesterday.
"[Gold buying] enquiries are increasing and volumes sold are picking up, but remain limited," Platts quotes a dealer in the major import point of Ahmedabad, adding that domestic gold prices – relative to international quotes – have
risen in southern Indian states
to a discount of just $7 per ounce.
Over-supply and poor demand saw Indian gold prices – most typically quoted at a premium to London wholesale bars – trade at what the Reuters news-wire called
a "record" discount
of $100 per ounce in July.