GOLD PRICES slipped against all major currencies except the British Pound on Monday morning, retreating from last week's multi-month highs as world stock markets fell and bond yields rose, writes Atsuko Whitehouse at BullionVault.
The UK gold price in Pounds per ounce set fresh 6-month highs however, rising to £986 per ounce, as Sterling fell on news that Prime Minister Theresa May is going to cancel tomorrow's crucial Parliamentary vote on her EU-Brexit deal to avoid a crushing defeat.
With gold prices for US and Euro investors slipping to $1244 and €1090 respectively, London's FTSE100 was also the only major global equity index to avoid a loss, adding 0.4% as the Pound fell on the FX market.
Rumors that May will formally cancel
the Brexit vote at 15:30 London time began after the European Court of Justice found in favor of anti-Brexit UK politicians in one of its fastest judgements on record.
The ECJ confirmed that London can revoke the Article 50 notification of its intention to withdraw, made with a 2-year deadline in March 2017,
without needing permission
from the other 27 member nations.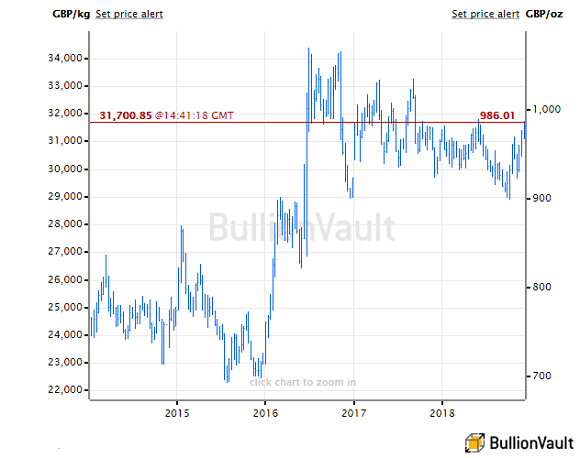 The US Dollar Index – a gauge of the greenback's value versus six major currencies – meantime edged higher after posting its biggest weekly drop in more than three months on a weak US jobs report and what analysts called a "dovish tone" in Federal Reserve comments.
Speaking at an event in Washington last Friday, Fed governor Lael Brainard said the economic picture was broadly positive but that risks were growing overseas and in the corporate debt markets at home.
Tailwinds for
global growth are fading
, she said, as financial conditions tighten and the boost from fiscal stimulus moderates. 
The Fed is now in a blackout period with no scheduled public speeches ahead of its Dec. 18-19 policy meeting.
"A number of tailwinds are in place for it gold prices to
move significantly higher
during the month," reckons brokerage INTL FCStone analyst Edward Meir, "including falling US interest rates, a declining or at least a stalling Dollar, wobbly US equity markets.
Beijing meantime demanded on Saturday that Canada release Meng Wanzhou of Chinese tech-giant Huawei, arrested for extradition to the United States, with Vice Foreign Minister Le Yucheng separately summoning both the US and Canadian ambassadors to
lodge a "strong protest"
.
No decision was reached at Friday's extradition hearing after nearly six hours of arguments and counter-arguments, and the hearing was adjourned until later today.
White House trade adviser Peter Navarro said on Friday US tariffs on Chinese goods would go up again if China offered no substantial concessions by March 1. 
Chinese export data published Saturday showed growth in November was barely half what economists had expected and ony a third of October's pace.
Chinese consumer price inflation published Monday also undershot forecasts for the month. 
Democrat Party politicians on the House Intelligence Committee
"will want to look into" allegations
of collusion between the Trump 2016 election campaign and Russia, according to a Republican member of the committee.
"In all," says the
Washington Post
, "Russians interacted with
at least 14 Trump associates
during the campaign and presidential transition, public records and interviews show."
Back in Europe, and after a fourth weekend of rioting and disruption across France by the so-called "gilets jaunes" or "yellow vests" protesters, President Macron was scheduled to make a televised address this evening, with pundits forecasting tax cuts for lower-paid workers.
"French growth is set to
slow close to a standstill
in the final quarter as waves of anti-government protests hit business activity", the Banque de France estimated on Monday, downgrading its outlook.