GOLD PRICES set new 2-week lows against a rising US Dollar on Wednesday, hitting $1262 per ounce as European stock markets slipped from their two-day surge and commodity prices also fell.
US Treasury bonds ticked down, nudging 10-year yields up to 2-week highs at 2.34%.
Ahead of President Trump unveiling what he's trailed as major tax reforms, the US Dollar meantime pushed higher against major currencies, recovering over half-a-cent from its weakest level to the single-currency Euro since late October.
Washington is set to mark Trump's first 100 days in office this weekend with a government shutdown
unless Congress approves
an extra $1 trillion in new debt.
Gold prices have risen 4.3% since 20 January in Dollar terms.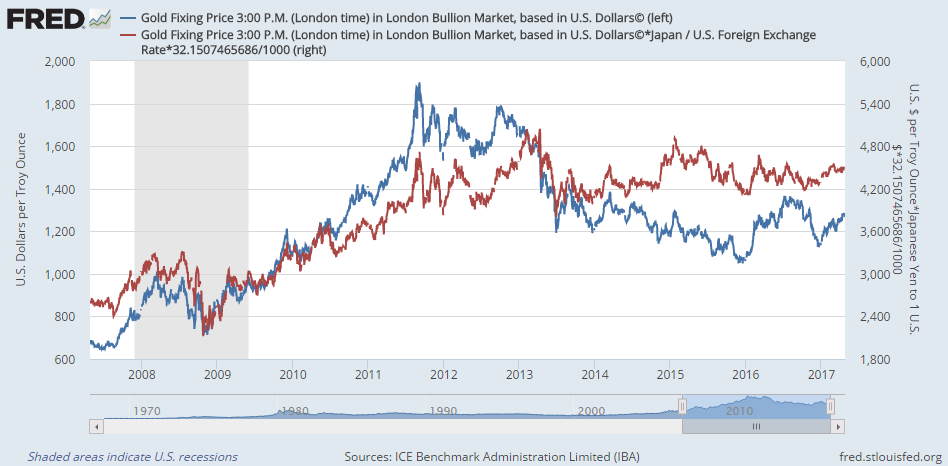 Benchmark gold prices
slipped 0.4% overnight in China
, the No.1 consumer nation, falling less than Dollar gold's drop as the Yuan fell together with Euros, Sterling and most other major currencies versus the greenback on the FX market.
That pushed the Shanghai premium – the incentive to shipping new imports of bullion to China from the world's key wholesale storage point of London – up to a 2-week high of $10 per ounce.
Gold priced in Yen meantime rose towards a 7-week high as the Japanese currency fell hardest against the Dollar.
Dollar gold prices have, over the 108 trading days since Trump won the US election last November, shown a stronger relationship with the Japanese Yen than any time since 1971 according to BullionVault analysis today.
Showing an average
r-coefficient
of -0.45 on a daily basis over the last 5 years, gold's negative correlation with the Dollar's value in Yen terms has jumped to -0.85 since
Trump was inaugurated
.
That beats the previous peak negative correlations of New Year 1979 and summer 2004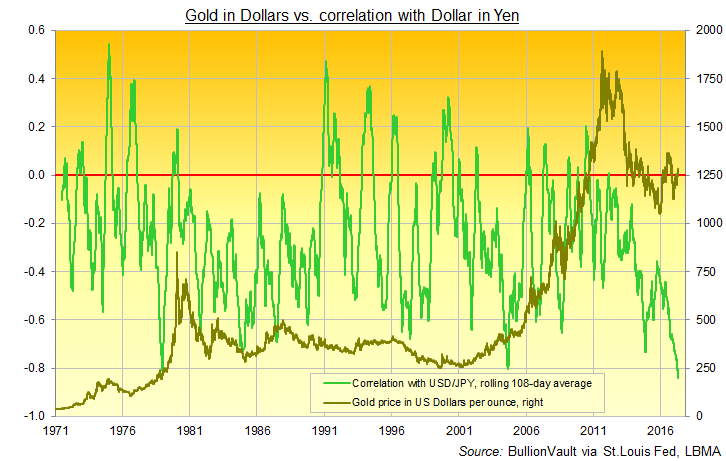 "A tax reform plan could give renewed energy to the reflation trade and damage bullion," says the latest weekly note from analyst Jonathan Butler at Japanese conglomerate Mitsubishi.
"[But] in reality any reform will be forced to go through the machinations of Congress, which will most likely vote down any proposal that seeks to increase the Federal debt level."
Looking ahead to Thursday's meeting of the European Central Bank however – and with gold falling this week even as the Dollar dropped versus the Euro following centrist Emmanuel Macron's strong showing in the first round of France's presidential election – "renewed strength in the Dollar could further hamper gold," Butler says.
"April is likely to be as good as it gets for gold in Q2," said a note from Chinese-owned bullion bank ICBC Standard late last week.
"That said, we are talking about consolidation, not capitulation."