GOLD PRICES touched 2-week highs against all major currencies bar the Japanese Yen on Thursday before easing back, extending 2017's year-to-date gains versus the weakening US Dollar to 9.3% as the scandal around Donald Trump's sacking of FBI director James Comey deepened again.
Asian and then European stock markets fell hard for a second day after the US Department of Justice named former FBI chief Robert Mueller as 'special counsel' to investigate the Trump campaign's links to Russian officials.
"With all of the illegal acts that took place in the Clinton campaign & Obama Administration, there was never a special councel appointed!" Trump tweeted Thursday morning.
Trump advisors "were in contact" with Russian officials and Kremlin-linked figures
at least 18 times
during the last 7 months of the 2016 election campaign claims Reuters meantime, citing "current and former US officials familiar with the exchanges."
"[But] if you look at the last year…and all the things that have been going on in the world, gold prices really
haven't done very much
," said commodity data and news agency S&P Global Platts' chief Martin Fraenkel to CNBC overnight.
With gold peaking above $1264 per ounce on Thursday, "$1295 remains a game-changing level for gold," says a new technical analysis from French investment and bullion market-making bank Societe Generale, "as it represents the trend line resistance drawn from the all-time high in 2011."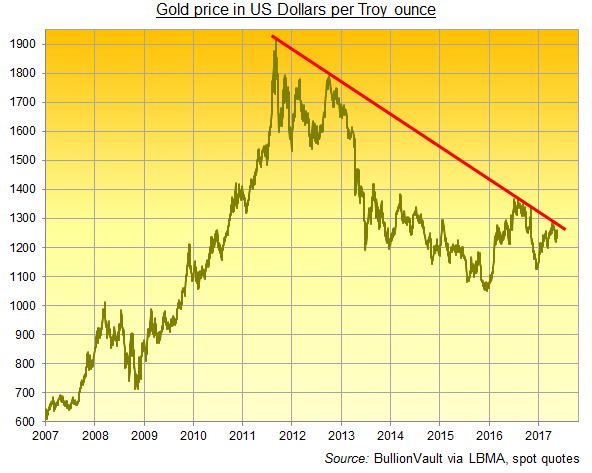 Gold prices in China rose to 2-week highs at the Shanghai benchmarkings on Thursday, fixing above ¥280 per gram but cutting the Dollar-equivalent premium over London quotes to $8.65 per ounce – below the last 12 months' average incentive to new imports.
"I think prices have already been pushed up and we might see reversing of gold prices in one or two days," reckons Hong Kong bullion dealer Ronald Leung at Lee Cheong Gold.
"People are likely to go back to basics and see what the interest rates are going to be."
With the US Federal Reserve next meeting in mid-June to set short-term interest rates and discuss unwinding the central bank's $4 trillion of QE bond purchases, new data today put the number of jobless benefits claims at a fresh 3-decade low.
Amid the Trump scandal however, betting on the US Fed's June meeting now sees just a 55% chance of the central bank raising its key interest rate from the current 1.00% ceiling, according to data from futures trading exchange the CME.
That's
sharply down
from yesterday's 79% odds and the 83% certainty of this time last week.
Longer-term interest rates slipped further on Thursday, with a rise in the price of US Treasury bonds pushing the
yield offered by 10-year debt
down to 2.20%.
Yields on Eurozone and UK government bonds also fell towards 1-month lows.
The number of shares outstanding in giant gold-backed ETF fund the SPDR Gold Trust (NYSEArca:GLD) hasn't changed in 7 trading days, despite the price of bullion rising over 3% in Dollar terms.
Giant silver-backed ETF the iShares Silver Trust (NYSEArca:SLV) also ended Wednesday unchanged in size, despite the metal jumping above $17 per ounce for the first time in 2 weeks.