GOLD PRICES slipped below $1250 per ounce for the fourth time in 2 weeks in London trade Wednesday, losing against a strong US Dollar as the White House moved to impose 10% trade tariffs on another $200 billion of imports from China and President Trump stunned a meeting of the Nato military alliance by attacking Germany for buying Russian oil while enjoying the protection of American troops and weapons against her eastern neighbor.
"No other president brings it up like I bring it up," Trump told
a breakfast meeting
of Nato leaders.
"You are just making Russia richer."
Base metals and other industrial commodities fell hard, with crude oil retreating $2 per barrel from yesterday's peak near 3-5-year highs in Europe's benchmark Brent contract.
World stock markets also dropped, cutting 1.7% off shares in Shenzhen and Shanghai, and 1.2% off equities traded in Tokyo, Frankfurt and Paris.
Despite
'safe haven' headlines
across financial media however, the giant SPDR Gold Trust (NYSEArca:GLD) shrank again on Tuesday as gold prices fell, recording its 8th outflow of investor cash in the last 9 sessions and needing less than 800 tonnes of bullion backing for the first time since August last year.
Nearest US competitor the iShares Gold Trust (NYSEArca:IAU) has also seen investors sell so far in July, shrinking by 22.5 tonnes since its record peak of end-April to need 266 tonnes of bullion bars as of last night.
By proportion that matches the 8% reduction in the GLD over that time – the giant ETF's fastest 10-week shrinkage since the end of 2016, beaten only by the record pace of outflows seen during
the gold-price crash of 2013
.
"Traditionally," says the latest weekly note from specialist analysts Metals Focus, "price-sensitive physical demand can help to deliver market support when gold prices weaken.
"As a result, last weeks decline below $1250 might have been expected to generate a positive response" from key consumer markets led by China, India and Turkey, the consultancy says.
"However, a survey of Metals Focus' field-based analysts suggest [Asian and Middle Eastern] jewelry, bar and coin demand has been, at best, mixed."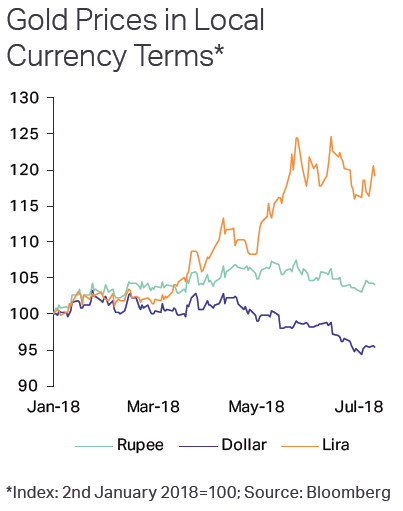 With the Dollar rising faster against the Chinese Yuan than against gold last night, premiums for gold on the
Shanghai Gold Exchange
edged up towards $5 per ounce – still two-fifths below the typical incentive for importing bullion from global trading hub London and suggesting weak demand in the world's No.1 consumer market.
"Rupee gold prices have risen this year by around 5%," says Metals Focus, with last week's drop failing to take gold below the "psychologically important Rs.30,000/10g threshold" for consumers in the No.2 market. 
"This limited the potential for investor bargain hunting. [Now] the onset of the monsoon also marks a seasonally weak period for local precious metals demand."
President Erdogan of Turkey – gold's No.5 consumer market – meantime joins Trump, Merkel and May today for the Nato military alliance summit in Brussels,
offering to lead anti-terror work
in war-torn Iraq ahead of assuming command of the Very High Readiness Joint Task Force in 2021.
Sworn in this week as executive president with sweeping new powers, Erdogan has begun appointing
a "risky and daring" choice
of senior ministers according to one Turkish commentator, including as finance and Treasury chief his own son-in-law – implicated 3 years ago in
oil-for-cash sales
made by terror group ISIS.