GOLD PRICES rose Friday against all major currencies except the US Dollar and Japanese Yen as new data showed unemployment in the United States falling to a new 17-year low.
Both the total of jobs added and average pay growth failed to meet analyst forecasts for April.
Wall Street opened the day lower but European shares recovered earlier losses as commodities ticked higher with bond prices, nudging long-term interest rates lower.
"Standing back," tweeted Financial Times columnist John Authers, "[the] unemployment rate [is] down to its lowest since 2000, while profits [for S&P 500 companies] are up 25.7% year-on-year."
Authers last week called the first quarter's corporate US earnings "
superb and far ahead
of the most optimistic expectations."
Average US wages grew 2.6% in the year to April, the Bureau of Labor Statistics said Friday, only just ahead of March's inflation rate of 2.4%.
Since official unemployment in the US was last this low, the gold price in Dollars has quadrupled.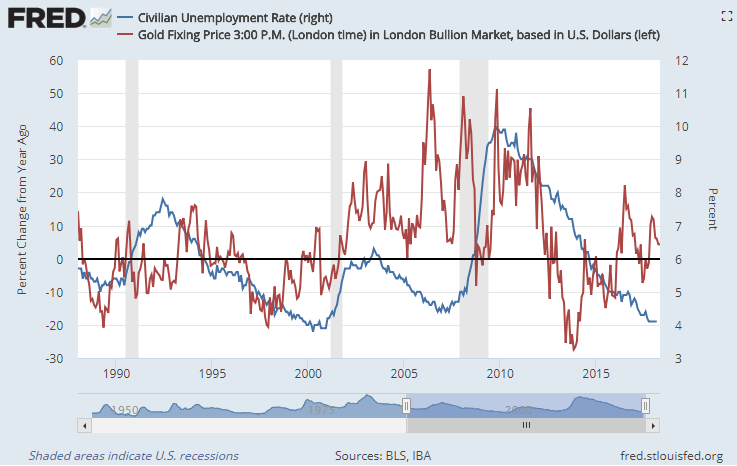 Priced in Dollars gold on Friday headed for its lowest weekly finish of 2018 to date as New York opened for business, trading at $1309 per ounce.
Euro and
UK Pound gold prices
in contrast added 0.6% and 0.8% respectively for the week, nearing their highest Friday finishs since early and mid-January.
"The Dollar's surge is occupying investor attentions," says the latest Global Strategy Weekly from 'perma-bear' Albert Edwards at French investment bank Societe Generale.
This week's rise in the Dollar's FX value, says Edwards, comes because US interest rates are rising further above the return offered by other currencies. Speculators also held "extreme bearish" bets against the Dollar, making it "vulnerable to a reversal.
"GDP growth surprises in favour of the Eurozone [are also] abating."
"Overhanging all of this is how President Trump and the US authorities will react to the stronger Dollar," says Edwards, warning of "aggressive verbal intervention quite soon" if the Dollar continues to gain.
"No-one wants an excessively strong currency" because of its dent to exports and boost to imports.
Chinese Yuan prices held little changed this week, but the premium for wholesale bars delivered in the world's No.1 consumer nation rose Friday towards $11 per ounce above London quotes, one-fifth greater than the typical incentive for new imports.
"Bullion price action during Asian trade on Friday
was relatively subdued
," says a trading note from Swiss refiners and finance group MKS Pamp.
"Shanghai interest once again provided a modest bid tone for the metal."