GOLD INVESTMENT prices sank to 2-week lows Wednesday lunchtime in London as new data showed the US cost of living rising at its fastest pace in 5 years as Donald Trump became president last month.
The official
Consumer Price Index
jumped 2.6% last month from January 2016, the strongest annual inflation since March 2012.
Federal Reserve chair Janet Yellen yesterday told Congress that
she's minded to raise rates
from the current 0.75% ceiling at an "upcoming meeting".
The Dollar rose today against the Euro for the 9th of 11 sessions so far in February, while world stock markets gained after Wall Street set yet more all-time highs overnight.
Separate data yesterday showed billionaire Donald Trump supporter John Paulson cutting his gold investments after the Republican's presidential victory in November, reducing his hedge funds' exposure by more than four-fifths from the peak of late 2012.
Regulatory filings to the SEC by Paulson & Co. said Tuesday that his hedge funds cut their holdings of the SPDR Gold Trust (NYSEArca:GLD) – the world's largest bullion-backed exchange-traded trust fund – by 9% in the fourth quarter of 2016.
Down to
4.3 million shares
, that equaled less than 1.5% of the gold investment ETF's total shares in issue.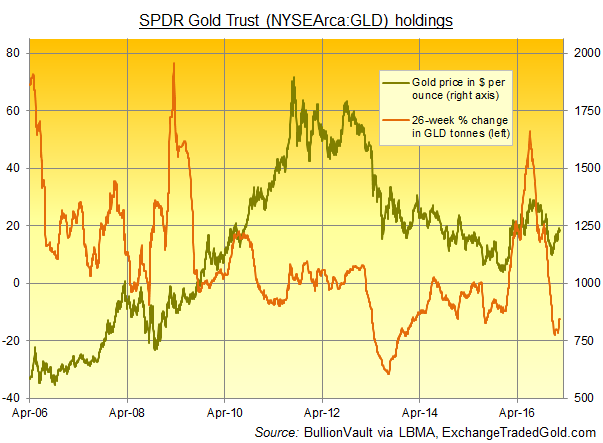 Having grown in the first half of 2016 at its fastest pace since the global financial crisis saw US stock markets
crash to 14-year lows in 2009
, the GLD ended last year with its sharpest liquidation since the gold-price crash of 2013, accelerating after Trump's 9 November win. 
Of the GLD's largest 9 shareholders to report their Q4 positions so far, 8 reduced their investment between October and December, cutting their holdings 27% between them.
"What gold's got going for it with the Trump presidency," says Jeff Rhodes, CEO of Dubai-based precious metals dealer Zee Gold DMCC, "is that you
don't know what's going to be said
, what's going to be tweeted."
"[But] the fiscal package likely to come from Donald won't be good for gold…but good for the Dollar."
Silver in contrast "looks fantastic" Rhodes told Bloomberg on Monday. "I think we're looking at the mid-$20s, I'm really bullish."
Silver tracked gold investment prices lower on Wednesday, but held only 10 cents shy of last week's finish to trade at $17.85 per ounce.
Ten-year US Treasury bond yields
meantime rose to 2.52%, nearing December's 27-month high of 2.60%, hit immediately after the Federal Reserve made only its second hike to US interest rates of the last decade.
Bottoming that same day at $1123 per ounce, wholesale gold investment prices have recovered 8.6%, slipping briefly below $1220 on today's US inflation data release.
Donating a
third of a million dollars
to the Republican Party ahead of Trump's 2016 victory, Paulson & Co. in November slashed the headcount at its London office, with what the
Financial Times
called
"high-profile departures"
including gold strategist and former partner John Reade,
hired in 2009
from Swiss bullion bank UBS.
Reade
was this month appointed
chief market strategist at the mining-backed World Gold Council market-development organization.