GOLD PRICES bounced Friday after weaker-than-expected US jobs data, but still headed for the lowest weekly finish of 2018 or worse versus most major currencies.
China's stock market closed the week at its lowest since the end of 2016, down 25% from January's peak as
Beijing readied new tariffs
on $60 billion of US imports – costing from 5% to 25% – "subject to…any unilateral threat or blackmail" from the United States.
"[That] will only lead to intensification of conflicts and damage to the interests of all parties," the Chinese government said.
The US Dollar meantime eased back from multi-month highs on the FX market after the
Bureau of Labor Statistics said
the world's largest economy added 157,00 jobs in July – almost one-fifth fewer than Wall Street expected.
Longer-term US interest rates also retreated after the non-farm payrolls report, with the yield offered by 10-year Treasury bonds slipping back beneath 3.0% – a 4-year high when first reached in April.
Dipping to new 13-month lows beneath $1205 as London opened for business, gold prices then rallied $10 per ounce after the US jobs data to cut this week's loss in half.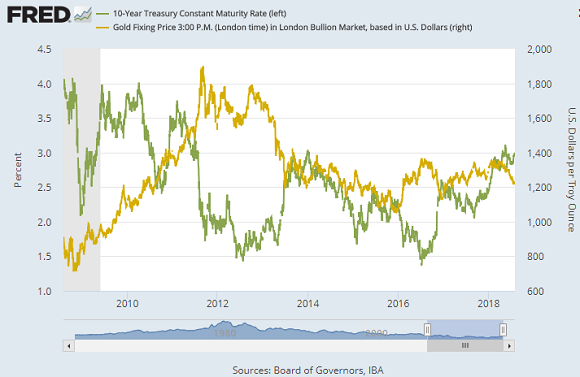 Average US working hours slipped to 34.5 per week in July, the BLS said Friday, as earnings held 2.7% annual growth.
"Resistance comes in at $1232.40…[and] momentum continues to be negative."
"It feels like it is inevitable now that we will have a test of the psychological $1200 level over the next few days," said Swiss refining and finance group MKS Pamp's trading desk.
"Record shorts remain in place for Comex specs…a slight bullish lean at present…[but] we have not really seen any slowdown in ETF liquidation over the past weeks which does raise a little concern.
"Similarly the USD remains robust, which continues to drive moves in gold."
The Euro earlier fell through $1.16 to its lowest USD exchange rate since end-June, and the Chinese Yuan sank to 15-month lows at worse than ¥6.89 per Dollar before rallying after Beijing
imposed a new restriction
on domestic FX traders.
Premiums for bullion landed in Shanghai held firm near $5 per ounce above London quotes.
China's benchmark gold price in Yuan has now failed to move more than ¥1 per gram either side of ¥268 for nearly 3 weeks.
Commodity prices meantime edged higher in US Dollar terms, holding flat from last week's finish on the
Bloomberg Commodity Index
to stand 7% below May's 3-year high.
Silver tracked gold prices lower and higher, nearing last month's 1-year low with a fall to $15.25 before rallying 20 cents per ounce to trade 0.5% lower for the week.
Platinum rebounded for the third time this week, overtaking last Friday's finish to regain
Thursday's spike to $834
after No.2 producer Impala Mining (JSE:IMP) announced steep jobs and output cuts.