GOLD PRICES rallied from yesterday's near 4-week low against the Dollar on Wednesday but held below $1330 per ounce as world stock markets failed to follow Wall Street's sharp bounce from the last week's 6% plunge.
Both the Euro and British Pound continued their retreat against the US currency on the FX market, helping gold prices for European investors hold a small gain for the week so far.
Volatility meantime continued to hit major government bond markets, with so-called 'peripheral' Eurozone yields on Italian, Spanish and Portuguese debt easing lower while long-term German and Dutch interest rates rose.
US Treasury bond prices ticked higher
ahead of speeches scheduled
from several Federal Reserve policymakers, edging yields lower again from last week's spike to multi-year highs.
Typically moving inverse to each other, 10-year yields and gold priced in Dollars last week touched their strongest positive correlation since May 2012.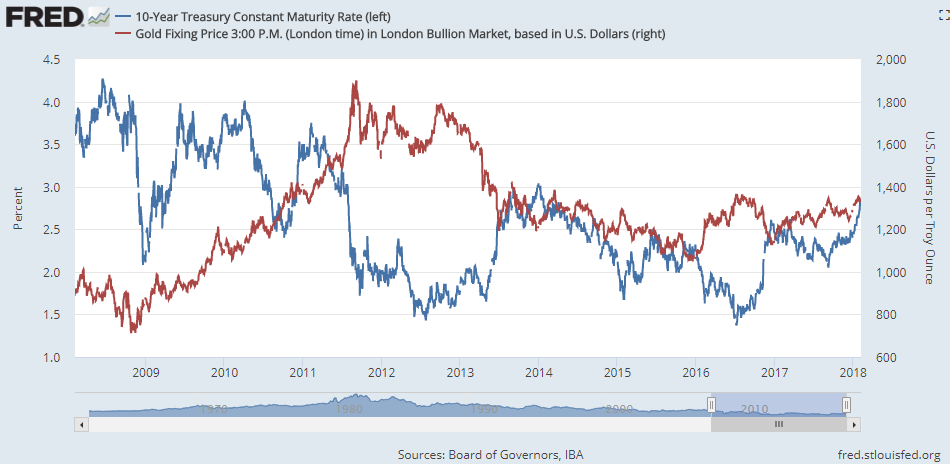 Tokyo's stock market rallied just 0.4% on Wednesday and China closed sharply lower again. 
Germany's Dax bounced 0.4% from its 5-month low, while London's FTSE100 index of mainly global businesses added 0.7% from its plunge to 9-month lows.
"While this drop in equities would normally be supportive of gold as a risk hedge," says the latest weekly analysis from strategist Jonathan Butler at Japanese conglomerate Mitsubishi, "the short term headwinds of the stronger Dollar and rising yields pushed bullion lower. 
But this "correction" in equity markets after a 9-year bull run "may turn out to be short lived," Butler goes on, because "the economic fundamentals remain strong.
"The full benefits of US tax reform have yet to be felt…[and so] the risk of inflation re-emerging appears to be greater than that of a recession. [That] paints a constructive picture for gold as an inflation hedge, and also gives a broadly positive outlook for the industrial-facing white precious metals."
Silver edged higher against the Dollar on Wednesday, trimming the Gold/Silver Ratio of the dearer precious metal's relative price down to 79.5 from Tuesday's spike towards 2-year highs above 80.
Platinum prices
meantime held lower for this week so far at $986 per ounce, trading some 4.1% beneath late-January's 11-month high.
The CEOs of platinum's major mining companies see output "flat at best" in 2018
reports Bloomberg today
, quoting comments from No.1 miner Anglo American Platinum's Chris Griffith and other bosses meeting in Cape Town for the annual Mining Indaba conference.
Global gold mine production meantime rose to a fresh record high in 2017, expanding for
9 years running
according to new data compiled for market-development organization the World Gold Council show.