GOLD BULLION prices fell as the Dollar jumped on stronger-than-expected US inflation data Wednesday, only to recover the drop as fixed-income bond prices fell, pushing longer-term interest rates higher once more.
World stock markets also sank and then rallied on the news, with Germany's Dax regaining a previous 1.0% loss by mid-afternoon in Frankfurt.
Gold priced in non-US currencies also spiked lower and then higher, with the
cost of bullion for UK investors
 and Euro buyer setting new 1-week highs above £961 and €1080 per ounce respectively.
The official US Consumer Price Index rose 2.1% in January from the same month last year, beating Wall Street forecasts but coming substantially below the 6-year peak hit last February at 2.8% per annum.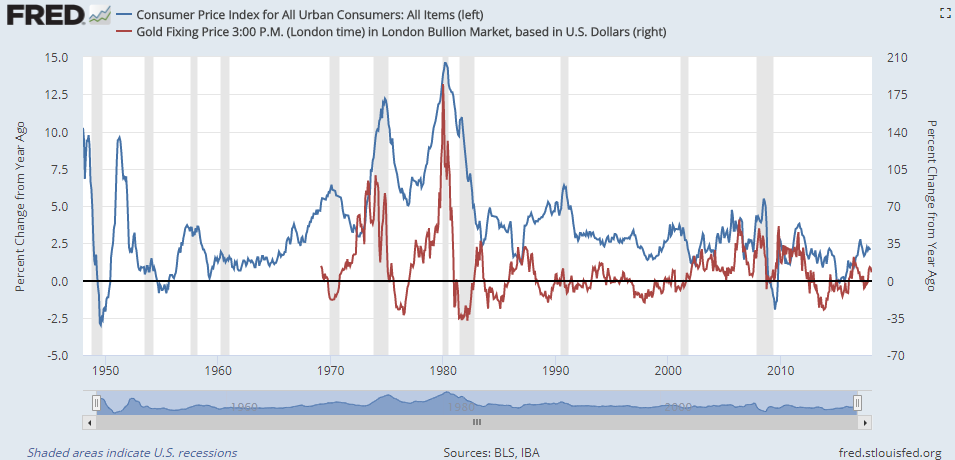 China's stock market had earlier risen into the long Lunar New Year holidays, with the Shanghai Shenzen CSI300 index closing the Year of the Rooster some 15.9% higher.
That was over 9 percentage points lower however from last month's 2.5-year high.
The US Dollar had already extended its rally ahead of today's inflation data, hitting a near 3-week high versus the Chinese Yuan overnight to trade 1.6% above last Wednesday's 2.5-year low.
That drop in the Yuan helped curb the premium for gold bullion delivered in Shanghai around $6 per ounce above quotes for London settlement, lower by one-third from the typical incentive for new imports into the world's No.1 consumer nation.
Household demand, meantime, is likely to see its peak for the year with gift-giving as well as investment purchases of gold bullion bars and coin.
"The upcoming Chinese New Year holiday will remove physical demand from the [wholesale] market," says Swiss refinery group MKS Pamp's trade Sam Laughlin,
speaking to Reuters
.
"Faster-than-expected inflation pressures would likely persuade higher policy rates across key central banks," says economist Barnabas Gan at Oversea-Chinese Banking Corp. in Singapore
to Bloomberg
.
"[That will] pressure prices lower, rather than lift gold's status as an inflation hedge."
For Greece, it would be like a "fly picking a fight with a giant."
After Turkish warships blocked an Italian oil rig from exploring for natural gas near the divided island of Cyprus, Turkish coast-guard ships
on Monday rammed Greek coast-guard ships
near the islets of Kardak, just off the Turkish resort of Bodrum.
Warning the United States to cease its support for Kurdish fighters in Syria on Tuesday, "It is clear [they] have
never experienced an Ottoman slap
," Turkish President Recep Tayyip Erdoğan told his Justice and Development Party (AKP) in parliament.
The Lira today edged higher against the Dollar from last week's 2-month lows, curbing gold bullion prices in the world's 5th largest consumer nation some 2% below last month's revisit to November's fresh all-time record highs.
Gold priced in Turkish Lira has risen 5-fold over the last decade as the currency has lost 70% of its US Dollar value.
"We plan our strategy and we will continue with this."
Allowing for the world No.2 consumer nation's 10% import duty, wholesale gold premiums in India's key hub of Ahmedabad today held at $1 per ounce above comparable global quotes says data from the NCDEX exchange.
That marked the 11th trading day in succession without dipping to a discount, the longest run of 2018 so far.