GOLD PRICES in London's wholesale bullion market headed for a small weekly gain Friday lunchtime, holding $2 per ounce higher at $1255 as US employment data beat analysts for last month.
Ahead of today's imposition of new US tariffs on imports from China, now
met by Chinese tariffs
on a matching $34 billion of US goods, the world's largest economy added 213,000 jobs in June, the Bureau of Labor Statistics said.
Wage growth
held at 2.7% per year
, missing Wall Street's typical forecast, while the jobless rate rose to 4.0% as more people joined the labor-force to seek work.
Silver meantime slipped back below $16 per ounce on Friday, heading for its lowest weekly close since mid-December.
Platinum traded at $837 per ounce, 2% below last Friday's finish and heading for its lowest weekly close since January 2016.
That held the gray metal's discount to gold prices at $416 per ounce, near Tuesday's plunge to new all-time records.
"[This] is good news for the stock market," says columnist Mark Hulbert at
Barron's
, relaying the implications of
2013 analysis
by quant trader Darien Huang and finance professor Mete Kilic.
"The current message" of platinum's discount to gold, says Hulbert, is that investors have favored the yellow metal as an "economic and geopolitical hedge",
rather than boosting platinum
as an indicator of global industrial activity.
"[So] the stock market would have exhibited even more strength over the last couple of years if it hadn't been held back by investor concern and anxiety. Put simply, the bull market over the past several years has been climbing a 'wall of worry'."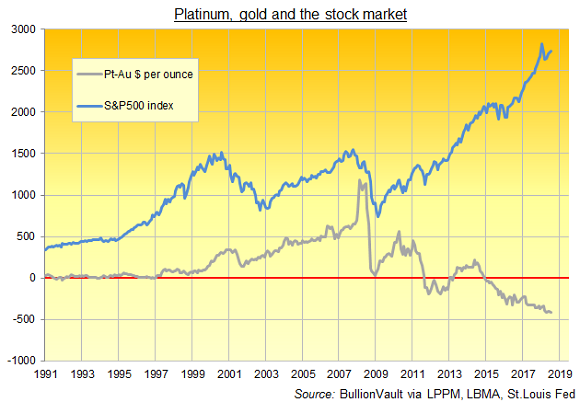 The gap between
platinum prices
and gold has in fact shown a far stronger positive relationship with the S&P500 since the US stock market bottomed at the depths of the global financial crisis than it had over the prior two decades.
From 1991 to 2009, the median 12-month correlation of platinum's premium to gold was +0.17 but it has risen to +0.41 since the current equity bull market began.
That figure would read +1.0 if platinum's premium to gold moved exactly in lockstep with the stock market.
The relationship has, however, flipped to show an average negative correlation of -0.31 since
the diesel scandal broke
in 2015, denting sentiment towards platinum – used in autocatalysts to cut harmful emissions from diesel-engine vehicles.
European stock markets today trimmed their gain for the week to 1.2% while the S&P500 index opened 0.7% above last Friday's finish.
Raw materials as a group held 2.5% down for the week near their lowest Friday close since the start of February on the
Bloomberg Commodity Index
.