GOLD BULLION whipped in a $10 range around what analysts called "the psychologically important $1300 per ounce mark" on Friday, holding a 2.1% gain for the week as the Dollar fell on the FX market following weaker-than-expected US jobs data and tightening opinion polls for next Tuesday's Trump-Clinton presidential race.
Asian and European stock markets fell yet again, with London's FTSE-100 index sinking for the fifth session running to drop towards 2-month lows almost 6% beneath early October's new record high.
Major government bond prices rose sharply, pushing longer-term interest rates down, while crude oil prices suddenly regained the $1 dumped at the start of US trade after falling for the sixth session running amid news of
surging world output
and fresh rumors of a
split in the Opec nations cartel
over production quotas.
As crude oil rallied from new 6-week lows beneath $44 per barrel of WTI, silver bullion held 70 cents higher for the week at $18.42 per ounce, some 2% below Wednesday's 1-month high.
US stock markets edged higher in early trade, ending
the S&P 500 index
's record run of 8 losing sessions – a drop matched only by the October 2008 global financial crisis.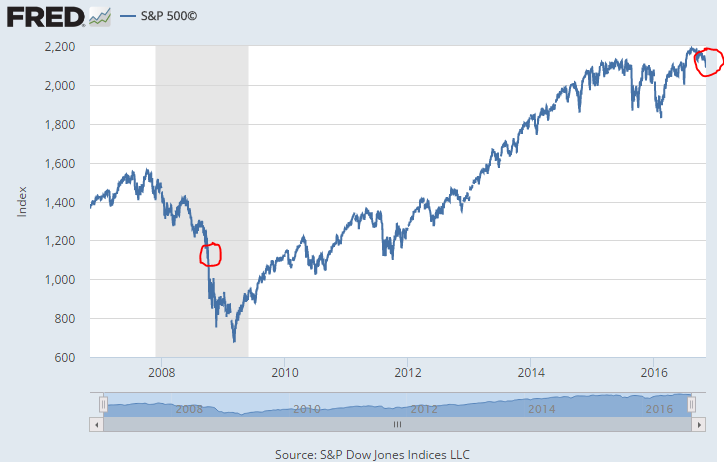 "The latest market reaction to Trump's rebound in the polls suggests that the market is skewed towards a Clinton victory," says the latest Global Equity Compass report from French investment and bullion market-making bank Societe Generale.
"This seems to indicate that if Clinton wins, investors should expect a quick relief rebound in global equity markets. [But] a Trump victory would likely be a source of volatility and trigger a market sell-off."
Awaiting today's US jobs report, "The US Federal Reserve signalled quite clearly [this week] that it will be raising interest rates in December," said a commodities note from German financial services group Commerzbank.
"Only exceptionally poor labour market data could deter it from doing so…[but] many market participants seem to be biding their time and awaiting the outcome of next Tuesday.
Today's official estimate of October's non-farm payrolls from the BLS said the US added 161,000 jobs last month, well below Wall Street's 191,000 consensus forecast.
"[It's] a tight race to the finish in critical battlegrounds,"
says CNN
, pointing to heavy campaigning in Arizona, Florida, Nevada and Pennsylvania.
"Gold had an interesting day yesterday if you enjoy nonsensical moves," says London futures and bullion brokerage Marex Spectron's London office, "with the price dropping from $1305 down to $1285 and then rallying all the way back up [for] no real reason other than Dollar moves, US opinion polls and suchlike."
Friday's US jobs data meantime saw the British Pound rise to new 1-month highs at $1.25 – still down some 16% for 2016 so far – as a ruling Conservative Party MP who had campaigned to leave the European Union
resigned in protest
at the Government's refusal to consult Parliament over its Brexit negotiations with the EU.
That held the gold bullion price in Sterling at a small loss for the week at £1042 per ounce as Prime Minister Theresa May said she is "confident" of over-turning on appeal this week's
High Court judgement
that the British constitution demands Parliamentary approval for triggering Article 50 of the Lisbon Treaty, starting the 2-year countdown to Britain's exit from the EU.