SILVER and GOLD PRICES retreated from 12- and 1-week highs respectively against the Dollar lunchtime Wednesday in London, falling as the US currency jumped on news of stronger-than-expected job hiring in January.
The private-sector ADP Payrolls report said US employers added 246,000 net jobs last month, well ahead of the 165,000 forecast by analysts.
World stock markets had already risen sharply after Eurozone manufacturing saw its
best month since 2011
and UK manufacturers reported their strongest January in 3 years on the Markit data agency's PMI surveys.
Copper meantime touched new 2-year highs above $6,000 per tonne after workers at the giant Escondida mine in Chile – owned by BHP Billiton (LON:BLT) –
rejected a new wage offer
, risking strike action.
With government bond prices falling to nudge market interest rates higher, silver touched $17.62 per ounce for the third time in 2 days, while gol held below yesterday's top of $1215 per ounce. 
That pushed the Gold/Silver Ratio of the two precious metals' relative prices down to 68.75, the lowest value of gold in terms of silver since mid-December.
The last 10 years' average stands at 61.55 ounces of silver to 1 ounce of gold, barely changed from the Feb' 1997 to Jan' 2007 average.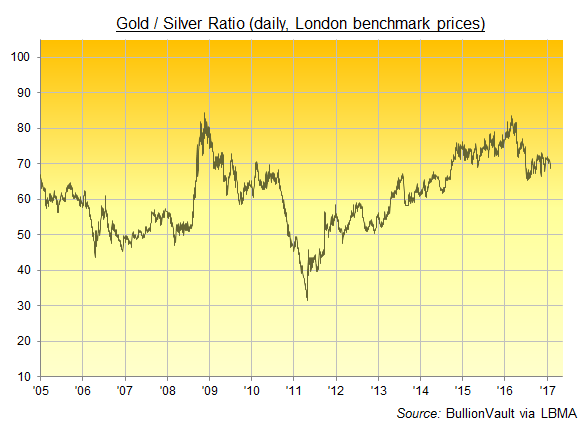 Despite
Tuesday's sharp jump in gold and silver prices
, both the SPDR Gold Trust (NYSEArca:GLD) and iShares Silver Trust (NYSEArca:SLV) attracted no new demand for their shares, keeping the quantity of metal held to back the legal trusts' values unchanged.
The GLD has added metal only twice since Donald Trump's victory in November's US election, shrinking instead on 33 of those 51 trading days as shareholders liquidated their positions.
"We're in
Phase III of the Trump rally
," reckons  Mohamed El-Erian, chief economic adviser at German insurance and asset-management giant Allianz, writing at Bloomberg.
"Post election…first US stock markets soared, then they traded in a narrow range. Now [they] have entered a period of greater volatility underpinned by a tug of war between the expectation of reflationary policies and the risk of stumbling into stagflation.
"Where we end up will be predominantly a political call."
Trump's avowedly "reflationary economic policies" mean that real interest rates – after accounting for the rising cost of living – "may stay favourable to gold," writes Jonathan Butler at Japanese conglomerate Mitsubishi Corporation in the
new LBMA 2017 Forecast
 competition, pointing to "higher inflation [and] increased fiscal spending.
"[But] we see the potential for silver to outperform gold,"
Butler adds
– forecasting a 3.7% drop in gold's average price but a 6.5% gain in silver for 2017 as a whole – "as investors become cognizant of it being under valued on a relative and absolute long-term basis.
"Rising physical offtake will also help silver, especially in the Asian jewellery markets and in the solar photovoltaic sector."
"Gold is one of the few things you should own," says UK hedge-fund billionaire Crispin Odey,
apparently urging clients
to stick with his bearish view of equities, UK government bonds and the Pound Sterling after losing half their money in 2016.