SILVER TRADING sent prices shooting higher overnight Monday, touching 2-year highs above $21 per ounce as Asian stockmarkets also rose sharply amid talk of fresh central-bank stimulus to avoid economic damage from the UK's Brexit vote to leave the European Union.
That crushed the Gold/Silver Ratio of the two precious metals' relative prices to its lowest level since 2014, down sharply from January's fresh 7-year highs.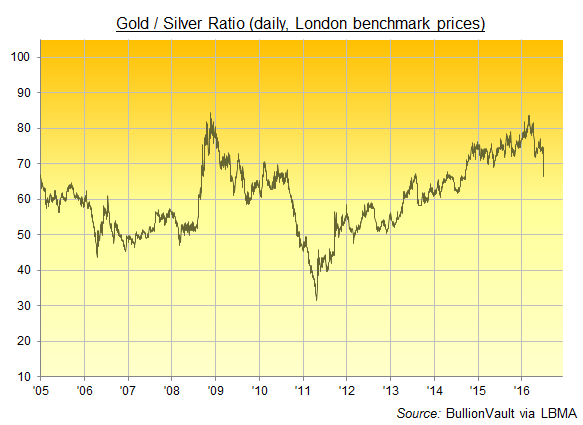 "Had we been in the London or NY time zone," says a trading note from David Govett at brokers Marex Spectron in London, "it is highly unlikely that [silver] would have risen as far.
"Asia is a time zone with very little liquidity, especially on a Monday morning and this has without doubt added to the ferocity of the move."
But having been overtaken Friday by the value of silver trading in Shanghai, spot gold surged back on Monday, with
turnover jumping to the second highest
ever, some 40% below Brexit Friday's new record.
Shanghai's silver trading held steady near record levels.
"Precious metals will likely outperform cash and other financial assets in years to come," Faber said. "Investors should accumulate here, or on any weakness…"
Rising gold prices already meant India's official imports – the world's largest behind China – fell by
more than 50% during April to May
compared with the same period last year, new figures show.
With gold-backed trust fund vehicles
expanding quickly once more
, speculation by hedge funds and other non-industry players in Comex gold futures and options
rose again last week
to another record level, data from US regulator the CFTC said Friday.
Speculation in silver also rose to another fresh record by number of contracts, approaching the all-time peaks of 2012 and 2011 in Dollar value.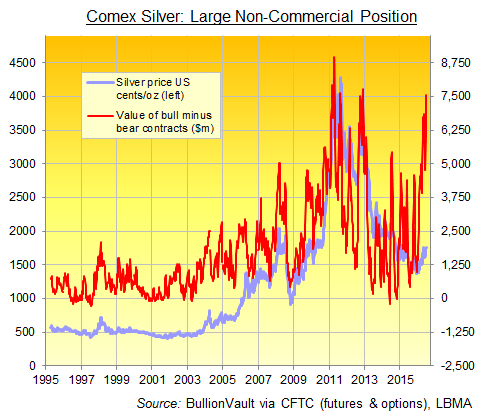 UK construction activity shrank at
the worst pace since the depths
of the 2009 global financial crisis in June, a new PMI survey from the Markit data agency said Monday.
Some 80% of responses by purchasing managers in the building sector were collected before 24 June's result.
This week brings US jobs data for June with the private-sector ADP estimate on Wednesday, and then the official government estimate for non-farm payrolls on Friday.