SILVER PRICES held on track for a 2% weekly gain in London trade Friday, outpacing gold's 0.3% rise in US Dollar terms as the yellow yet again failed to hold a break above $1300 per ounce.
"If gold is able to confirm a close above $1300, it could be able to gain
up to the 200-day moving average
at $1315," reckons a note from the trading desk of Belgian refining and materials technology group Umicore. 
But "the metal still struggles to find a handle above $1300," says the Asian trading team at Swiss refiners MKS Pamp, "and will need to consolidate above the figure to entice further interest.
"That said, underlying interest broadly sitting toward $1290-95 continues to provide an underlying level of interest.
"Silver has [meantime] found interest underneath $16.70 and will target a further leg higher."
Silver prices held around $16.75 per ounce Friday while world stock markets fell ahead of this weekend's G7 summit in Canada,
set for a confrontation
over the worsening 'trade war' between US President Trump and the other 6 developed-nation leaders.
Comparing the silver's relative pricing against gold, "The gold-silver ratio closed lower [on Thursday] at 77.42," says the New York office of Scotia Mocatta – the global bullion bank now being wound down as part of parent company Scotiabank's retreat from the precious metal market. 
"Support is at 77.36 – the Feb low," says
Scotia's technical note
on the Gold/Silver Ratio, looking for the figure to fall further as silver continues to outperform gold.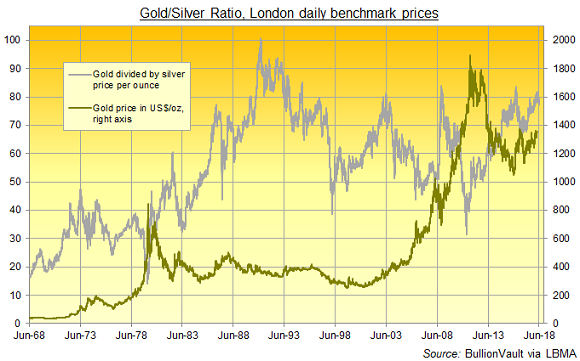 Holding below 77.5 on Friday, the Gold/Silver is trading near its lowest reading in 4 months and stands more than 5% below April's approach of early 2016's twenty-year highs.
"Overall we forecast the silver price to average $17.40 [across all of] 2018, marking a 2% increase," says the new Silver Focus from specialist analysts Metals Focus, launched last night in London and Mexico City.
"This still compares unfavourably to gold, which we expect to achieve an average 6% higher year-on-year in 2018 at $1330."
On the data front Friday, and after new 
US consumer borrowing
came in one-third below analyst forecasts with the weakest April growth since 2011, new figures today said Japanese bank lending slowed to 2.0% annual growth in May – its
weakest pace of the last 4 years
.
In contrast to the weak borrowing figures, "US wage inflation is set to take off in the coming months, just like Japan," reckons strategist Albert Edwards at French investment bank Societe Generale, pointing to how last week's US payroll data "highlighted the recent surge in the voluntary 'quit rate' index.
"Aka 'take your job and shove it' this index now sits at its highest level for 18 years…[What's] most significant is the quit rate tends to lead wage inflation by around 6 months."
Wth the US Federal Reserve watching for signs of wage-push inflation to guide its 2018 interest-rate hikes, "At a recent round table client dinner most participants identified accelerating US wages as the greatest risk to market stability in the near term," Edwards warns.