SILVER PRICES jumped through $18 per ounce Monday lunchtime in London, outstripping the rising gold price as US stock markets opened sharply lower and the Dollar sank after President Donald Trump abandoned his attempt to repeal Barack Obama's Affordable Care Act – a key plank of his election pledges.
Despite House Speaker Paul Ryan working "very, very hard" to garner enough support to replace Obamacare, Trump said he will
now move onto pushing tax reform
instead.
Gold touched $1260 per ounce – up 1.4% from the start of Asian trade to its highest Dollar value since 27 February.
Silver prices
added 2.0% to touch $18.13 before easing back 10 cents per ounce.
Priced in the Euro
the "devil's metal"
made only half that gain, touching a 3-week high at €16.64.
Silver's gains were more muted again for UK investors, as the British Pound rose fast on the FX market ahead of this
Wednesday's Article 50 notice
triggers 2 years until the UK formally quits the EU. 
"Gold [just] posted a second straight weekly gain," says Australia bank ANZ in a commodities note, "as the USD continued to weaken under concerns that the failure to scrap Obamacare would hinder Trump's pro-growth policies."
"Investor activity will remain key to [silver's] trend," said a separate note last week from specialist analysts Metals Focus, "[and] should remain supported by healthy safe haven buying."
"Even though gold will be the main beneficiary, there will also be spillover benefits for the silver price."
Looking at Comex futures and options contracts, latest data say the number of bullish derivatives held by Managed Money traders shrank for the third week running in the week-ending last Tuesday, taking the total loss to one-in-six contracts since the Fed's policy team announced
their clear intention to raise rates
at the March meeting at the start of this month, reaching a 6-week low.
The number of bearish silver bets has meantime swelled by one quarter, reaching its largest size in 8 weeks and pulling the Managed Money's net spec long down 23% to a notional equivalent of 10,119 tonnes.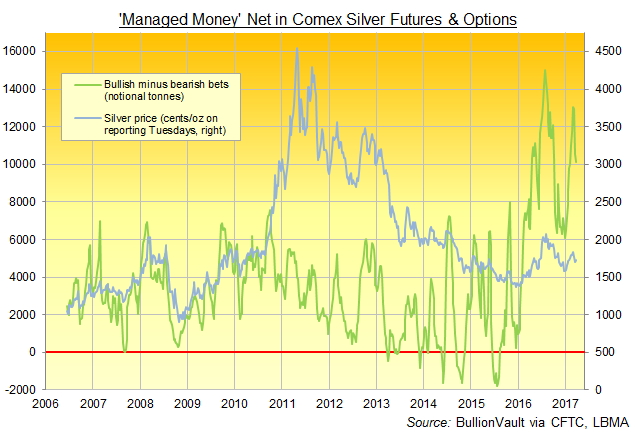 Equal to more than 4.5 months of total global silver mine output, that Managed Money net spec long is two-thirds of July 2016's all-time record, some 180% greater than the last 10 years' average.
"Unlike most other commodities, gold is often viewed as a safe haven asset as well as a pseudo-currency asset," says a note from US finance giant Citi.
"Exemplifying the divergent trend in recent weeks, Comex gold open interest declined 38% versus record highs of August 2011. Conversely, robust Comex silver open interest is currently just 17% shy of the all-time high in August 2016."
Year-to-date, Citi's analysts also "note an increase in [Comex trading] turnover of 18% and 33% for gold and silver respectively – indicative of rising liquidity, largely through speculative interest."
Bullion holdings to back the giant
iShares Silver Trust
(NYSEArca:SLV) were meantime unchanged last week at 10,342 tonnes.
Gold holdings for the SPDR Gold Trust (NYSEArca:GLD) shrank by 1.5 tonnes to 832 – almost exactly matching the GLD's average holdings since the
exchange-traded gold fund
launched in November 2004.
Speculative Managed Money betting on Comex gold contracts rallied hard last week, recovering one-third of the previous week's 46% plunge – the sharpest drop since November 2015 saw the speculative position amongst money managers
turn net negative on gold
for the first time in almost 10 years of data.