SILVER PRICES rose for a fourth day in London on Thursday, again beating both gold and platinum as world stock markets gained and Italy's borrowing costs retreated further from last week's spike to 2012 crisis levels.
Touching $16.78 per ounce just ahead of New York opening for trade, silver bullion traded 2.3% higher for this week so far.
Gold stood just 0.5% higher from last Friday's finish at $1299, while
platinum prices
had added barely $3 per ounce to $907.
"Conditions across global financial markets [will] become more supportive for precious metals prices later this year," reckons the new
Silver Focus 2018
from specialist analysts
Metals Focus
, launching the report today in London and Mexico City.
"As a result, silver is likely to spend the last few months of 2018 trending upwards…[and] a venture above $20, even if only short-lived, is likely during the final quarter of this year."
This comes despite "another year of oversupply" on Metals Focus' forecasts, "albeit less so than during 2016-17."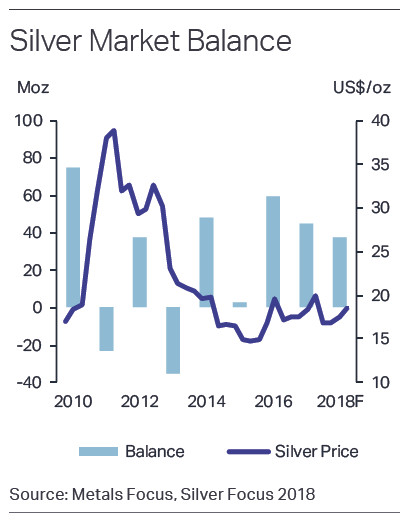 To balance global silver demand and supply in 2018, Metals Focus says "professional investors will once again be called upon to absorb a considerable level of excess" between industrial, jewelry and retail investment demand with mining and scrap supply.
"[But] there is plenty of scope for fresh investment inflows into silver," the consultancy believes, "especially among institutional players…given the macroeconomic and geopolitical backdrop."
The price of platinum will meantime "start a recovery this year, albeit a gradual one," according to Rhona O'Connell, head of metal analysts
GFMS at Thomson Reuters
, today launching the new GFMS
Platinum Group Metals Survey 2018
.
Forecasting a rise above $1000 per ounce sometime in the second half, GFMS' outlook "is predicated on a small deficit this year," says O'Connell's team, "fuelled by a contraction in supply, chiefly from the South African mining sector…[including] closures from some marginal operations…coupled with rising demand."
Platinum has only traded above $1000 per ounce on 14 trading days so far in 2018.
No.1 platinum producer Implats (JSE:IMP) today said that its Zimplats subsidiary (ASX:ZIM) has
settled a 5-year dispute
with the government of Zimbabwe, agreeing to give up half of its land-holdings "in support of [new president Emmerson Mnangagwa's] efforts to enable participation by other investors" in mining the world's second-largest deposit of the metal.
US and Japanese platinum jewelry demand is
set to "continue growing"
according to a new report from the mining industry-backed Platinum Guild International, but demand from auto-makers – who use platinum to reduce harmful engine emissions – is under pressure as sales of diesel cars retreat.
"Diesel SUV sales
are collapsing in Germany
," says a new report from the Center for Automotive Research, with sales of diesel-engine passenger vehicles falling from 48% of all new car registrations in the Eurozone's largest economy to 33% since the 'emissions test cheating' scandal broke at VW in 2015.
Meantime in Ankara on Thursday, the central bank of gold's No.5 consumer nation
Turkey hiked its key interest rate
for the second time in 2 weeks, taking it to the highest since 2009 at 17.75% per annum.
The TCMB's 7-day repo auction rate was just 8% until 24 May, while consumer-price
inflation ran above 12%
amid a plunge in Turkey's Lira to fresh all-time record lows on the currency market.
The Lira rallied on Thursday, capping gold and silver prices in Istanbul's wholesale market.
If Turkey does buy Russian-made S-400 air-defense missiles, fellow Nato member the United States has reportedly warned the government of Recep Tayyip Erdoğan – now seeking re-election in a snap poll on 24 June – it
"should not use them"
.
That saw wholesale bullion prices in the key import hub of Ahmedabad sink to a $2.85 per ounce discount to global gold quotes according to trading exchange NCDEX.