GOLD PRICES rallied above $1295 and silver almost recovered last week's 3% loss in London trade Tuesday, gaining as the US Dollar eased back on the currency market following 'dovish' comments from Federal Reserve policymakers.
Asian stock markets slipped but Europe pushed higher after Wall Street reached a 2-month high overnight.
With crude oil rising yet again – taking Brent with 50 cents of $80 per barrel – European bond yields edged higher while 10-year US yields held below last week's 7-year highs at 3.1% per annum.
Gold priced in the Dollar has now recovered one-third of the last week's 2.5% drop.
"A technical reaction is being witnessed on silver after it came down against the [upwards] trend line drawn from December 2015," says a new technical analysis from French investment and London bullion market-making bank Societe Generale, forecasting a test of resistance at $16.88 per ounce within the next 1 to 3 months.
"Silver has been unfolding a choppy and broad consolidation…Short term, it has started staging a recovery."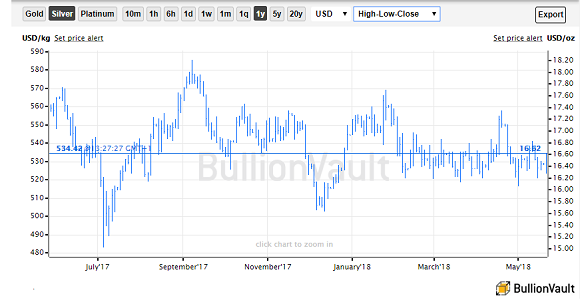 Over the last 3 months,
prices to buy silver
have now moved less than 5.8% low-to-high in Dollar terms, the tightest trading range since spring 2001.
Gold volatility has meantime seen prices move only 5.7%, picking up a little after April marked the flattest 3-month action since the mid-1990s.
On average across the last half-century, silver has been twice as volatile as gold over 3-month periods.
The giant iShares Silver Trust (NYSEArca:SLV) closed Monday needing 9,984 tonnes of bullion backing, the most since early December.
In contrast, gold's biggest exchange-traded trust fund – the SPDR product (NYSEArca:GLD) – shrank 0.5% in size on Monday as investors sold out.
That took the GLD's bullion outflow to 19 tonnes since end-April saw total holdings reach 5-month highs above 871 tonnes.
Expecting only two more Federal Reserve rate hikes in 2018, non-voting member Patrick Harker of the Philadelphia Fed said Monday it is "prudent to continue" raising rates,
but only "judiciously"
.
Market expectations for 3 more rate hikes to 2.5% this year have barely changed over the last week,
according to data from the CME
futures exchange, with traders holding the odds of Fed rates ending 2018 at that level around two-in-five.
Gold priced in the Euro currency held little changed as Dollar prices rose on Tuesday, trading just below last week's finish of €1098.50 per ounce.