GOLD slipped Friday in London but silver prices spiked to 11-week highs as US President Donald Trump berated the Opec oil cartel for "artificially" pushing energy prices up to 4-year highs by discussing new output cuts.
Asian stock markets fell but Europe held flat on the day, keeping the
Stoxx Europe 600 Index
unchanged from last Friday's finish.
Silver prices hit $17.35 per ounce, extending their outperformance of gold for a 3.2% weekly gain as New York opened for business.
Gold in contrast slipped to $1341 per ounce, erasing almost half of last week's $13 gain.
That pushed the
Gold/Silver Ratio
back down to 78 – the one-month low reached yesterday after gold had traded up to 2-year highs against the cheaper precious metal.
Major government bond prices fell meantime, pushing the interest rate offered by 10-year US Treasury bonds up to 2.92%, just shy of February's 4-year highs.
"The workweek soared to its highest level since October 1987; production bottlenecks too – vendor delays soared to an all-time high! Prices-paid [rate of gain] highest since March 2011. Prices-received
jumped to a ten-year high
."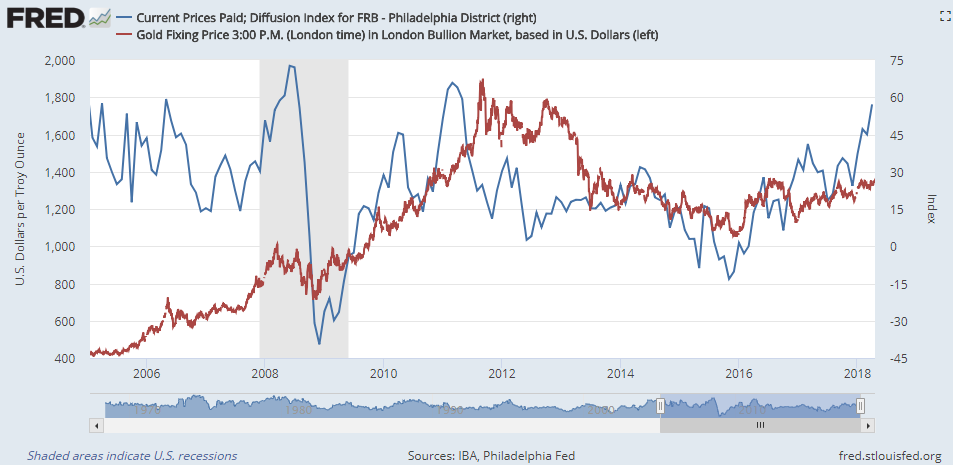 "Looks like OPEC is at it again,"
tweeted Trump
as the oil cartel met with other producer states in Jeddah, Saudi Arabia to discuss output quotas.
"Oil prices are artificially Very High! No good and will not be accepted!"
Oil on Friday eased back from this week's 4-year highs at $74 and $69 per barrel of European Brent and US West Texas crude respectively.
Thanks to Opec's previous quota agreements, "The oil stockpile surplus that's weighed on prices for three years is all but gone,"
says Bloomberg
.
"Still, the curbs should continue because another important goal – boosting investment in oil and gas production – remains far out of reach, said Saudi energy minister Khalid Al-Falih."
Tempering that view, Russia's energy minister Alexander Novak said today that both Opec and non-member producer countries
could start to relax
their oil production quotas "as early as this year," Reuters quotes Moscow's Tass news agency.
Growth in US shale-oil production meantime "could equal global demand growth" in 2018, the International Energy Agency said in
a report earlier this year
.
Priced in British Pounds, silver today jumped to 11-week highs above £12.20, offering a 4.6% weekly gain as Sterling extended a fall on the currency markets begun when Bank of England chief Mark Carney told the BBC last night that the UK's 2019 exit from the European Union
"could delay" interest rate rises
.