SILVER PRICES shot higher Friday lunchtime in London, overtaking gold's 1.6% gain for the week in Dollar terms to touch $17.75 per ounce as platinum also rose.
With silver prices adding 2.0% from Friday last week, gold rose to $1248 per ounce but lagged yesterday's spike to 3-week highs at $1253.
"Longer term our bias is bullish," writes Karen Jones in her latest Bullion Weekly Technicals for Germany's Commerzbank.
"There are relatively few new projects and expansions expected to begin producing this year," said the Q4 2016 analysis from data specialists Thomson Reuters GFMS last month, "and those in the near-term pipeline are generally fairly modest in scale.
"Hence our view that global mine supply is set to continue a multi-year downtrend in 2017."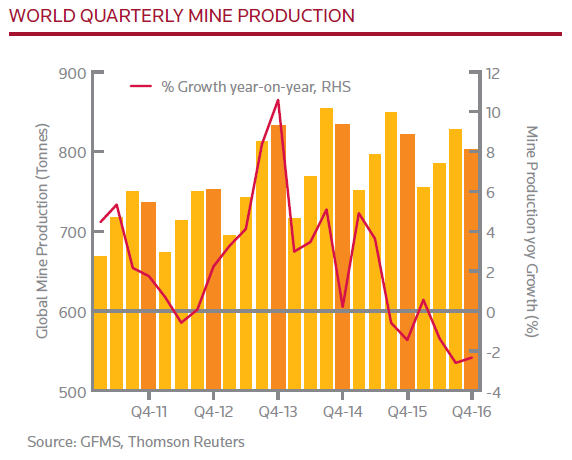 "A number of significant headwinds battered the gold industry in recent times," says Creamer Media's Mining Weekly, quoting Holland's speech, "including the need to dig deeper amid declining grades…doubling the period from discovery to production from 10 years to 18 years, and resulting in cost inflation.
"Exacerbating this is growing demand by both governments and communities for greater benefits" from the industry, with the number of incidents with local communities rising 20% per year between 2002 and 2015.
With speculation in Comex silver futures and options falling on last week's data for the first time so far in 2017, "The positive tone to institutional investment we expect in 2017 should comfortably offset a weaker outlook for global [retail] physical investment," says the latest weekly note from
specialist analysts Metals Focus
.
Because silver's market is much smaller than gold's, Metals Focus sees "likelihood for heightened price volatility [and] the price could enjoy robust gains in 2017, with the potential to comfortably exceed $20 before year-end."
Platinum is also drawing larger investor interest, writes strategist Tom Kendall at the former South African-owned bullion and commodities division of China's ICBC Standard Bank, pointing to "light buying of platinum [
backed trust fund] ETFs
…distributed across several funds listed in different locations.
"Valuation arguments may be starting to carry some weight."
Platinum prices rose $5 per ounce Friday to trade at $967, just above last week's close but some $280 per ounce below gold.