GOLD PRICES held in a tight $5 per ounce range Tuesday, trading around $1260 as world stock markets extended their push to new record highs.
English police made an arrest following the
suicide-bomb murder
overnight of 22 children, teenagers and other concert-goers in Manchester.
India's army reported making its first 
"punitive" strikes
 of 2017's spring thaw on Pakistani forces across the disputed border of Kashmir.
South Korea meantime said its
troops today fired
at what may have been an un-manned drone from North Korea, where hereditary dictator Kim Jong Un yesterday "supervised" the test-launch of a long-range missile.
Silver prices
popped sharply higher to its highest since end-April at $17.30 per ounce Tuesday lunchtime in London.
"Gold is struggling to make it out of this $1245-65 range," Reuters quotes spreadbetting provider Saxo Bank.
"Gold is now probing [a] first significant hurdle at $1263-65," agrees the latest technical analysis from French investment and bullion market-making bank Societe Generale, also putting "$1245 [as] short term support."
"Resistance is at $1264.50," agrees bullion bank Scotia Mocatta's New York team, pointing to the
61.8% Fibo retracement
of April's high to May's low, and also putting "Support at $1245.50…[the] 200 day Moving Average.
"Momentum indicators are biased to the upside and…remain bullish as long as gold closes above the 200-day MA."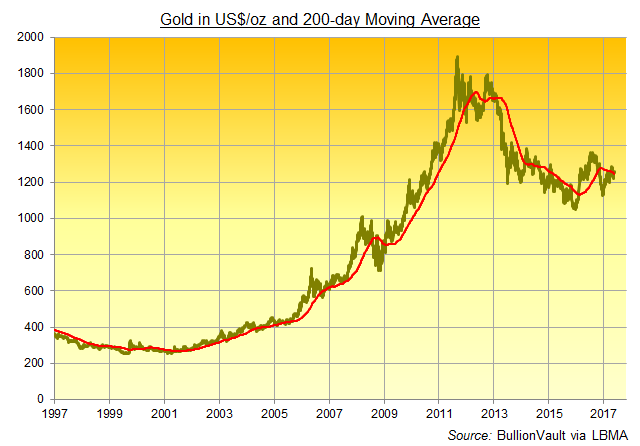 Monday saw the giant SPDR Gold Trust (NYSEArca:GLD) expand its bullion backing by almost 2 tonnes, only its 3rd inflow of the last month against 5 days of shareholder liquidation.
That leaves the GLD almost 1% smaller from late April needing 852 tonnes of physical bullion to back the value of its exchange-traded shares.
Premiums in Shanghai, over and above London quotes, slipped to their lowest Dollar equivalent in a month, dropping below $8 per ounce against a 12-month average $9.40 incentive for new bullion shipments into the world's largest gold mining, importing and consumer nation.
Gold imports to No.2 consumer India jumped 4-fold in April from the same month last year, Bloomberg
reported last week
, but shipments are now likely to drop according to industry figures as fears about the looming imposition of General Sales Tax on jewelry adds to the traditional summer lull in Hindu wedding and festival demand.
"This trend [of heavy imports]
will not continue
in the coming months," Reuters quotes James Jose, at India's Association of Gold Refineries and Mints.
"Ahead of GST, some people are stocking up fearing higher tax, but demand has been falling."
Deferred until the end of next week, the decision on gold GST rates "was agreed at 5% by most states," says Thomas Isaac, finance minister of Kerala, who wanted a higher rate while Maharashtra, Gujarat and Tamil Nadu pushed for a lower level.
With Saudi ministers now urging other Opec oil-cartel officials to
extend output cuts
in a bid to boost prices at this week's meeting in Vienna, crude oil initially lost 50 cents before rallying towards new 1-month highs above $51 per barrel of US benchmark WTI.