GOLD PRICES jumped on Monday as the US Dollar retreated on news of a "ceasefire" in the US-China trade war, agreed at this weekend's G20 summit of world leaders in Argentina, writes Atsuko Whitehouse at BullionVault.
World stock markets also jumped, as did commodities, with crude oil adding over 5%.
After last month's historic slump in oil prices, Saudi Arabia and Russia this weekend extended their pact to manage supplies between them, and Canada's largest producing province ordered unprecedented supply cuts.
Opec-member state Qatar said Monday it is leaving the cartel, now due to meet in Vienna in Friday to agree 2019 quotas.
Silver prices
outpaced gold this morning to trade 2.2% higher at $14.50 per ounce.
Spot gold climbed almost 1% to $1232 per ounce, more than three-week high, while the US Dollar Index – a gauge of its value versus six major currencies – traded down 0.5%.
While the US currency is heading for its 5th annual gain of the last six years, gold priced in Dollars held a 5% loss for 2018-to-date on Monday morning.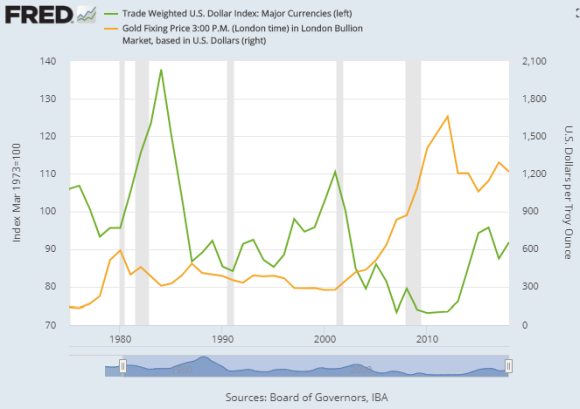 Meeting in Buenos Aires on Saturday, US President Donald Trump and China's President Xi Jinping agreed to a 90-day delay in applying the latest rounds of their import tariffs on goods from each other's countries.
"Even though it's [just] a 90-day truce and both US and China
still need to sort out multiple issues
in this period," says Mayank Mishra, global macro strategist at Standard Chartered, "from the markets' perspective getting [this] outcome and de-escalation of tensions is clearly positive for risk sentiment."
At the summit in Argentina's capital, the G20 leaders also managed to agree
a joint declaration
that noted divisions over trade but for the first time did not criticise "protectionism".
"The over pessimism in bullion space on account of interest rate moving up is overdone and
this is the right time
to accumulate gold," said Kunal Shah, head of research at Nirmal Bang Commodities in Mumbai, India, adding, "by December 31 we can see Comex gold [futures contracts] at $1250."
Hedge funds and other money managers last week increased their bearish position in Comex gold futures and options by 19%, raising it to the notional equivalent of 161 tonnes in the week to Nov. 27, according to US regulator the CFTC.
The 'Managed Money' has now been net bearish for 20 weeks, by far the longest period since the CFTC started reporting in this format in June 2006.
Back from the G20 meeting, French President Emmanuel Macron has held an urgent security meeting following a day of riots by thousands of anti-government protesters.
Three people have been killed, more than 100 people were injured in the city, including 23 members of the security forces, and nearly 400 people were arrested, in the protests since demonstrations started more than two weeks ago, police said.
Gold prices for European investors rose to €1085 per ounce while Italian Prime Minister Giuseppe Conte signalled optimism that his government can reach an agreement with the European Commission over its 2019 budget deficit.
Also back from the G20 talks, Prime Minister Theresa May has just one week to convince dissenting members of Parliament to pass her 'Brexit deal' bill.
On Monday, the opposition Labour Party warned the UK faces a 'constitutional crisis' if May does not publish the full legal advice it has received on her Brexit deal.
Gold prices for UK investors climbed to £968 per ounce, the highest more than five weeks, as the British pound dipped 0.1%.