SILVER BULLION rallied but struggled to hold above $16 per ounce on Friday in London as gold bounced $10 from yesterday's new 40-week lows against the US Dollar.
Losing 4.7% from last Friday's finish, silver doubled the weekly loss in gold bullion – its first weekly underperformance in four.
"We see an increasing risk of investor selling," says Swiss private bank Julius Baer of gold, silver and the other precious metals, "and prices may well undershoot heading into next year.
"Due to its very high dependence on investment demand, gold is most susceptible…We estimate that a 100-tonne decline in the holdings of physically backed gold products lowers prices by around 3.5%.
"If holdings returned to the levels seen earlier this year, prices could drop another 15% from today's levels."
Western money managers cut their exposure to gold bullion prices again on Thursday, extending the worst run of exchange-traded trust fund outflows since the 2013 crash.
The largest
bullion-backed ETF
, the SPDR Gold Trust (NYSEArca:GLD), yesterday shrank by another 7 tonnes – just less than 1 day's global gold mining output.
Taking the GLD's holdings down to 842 tonnes as shareholders liquidated 0.8% of the stock, that cut its 2016 addition below 200 tonnes from last New Year's Eve, down from 340 tonnes at the early July peak following the UK's Brexit referendum vote.
The largest silver ETF also shrank as investors sold out on Thursday, with the
iShares Silver Trust
(NYSEArca:SLV) needing 10,534 tonnes of bullion backing at the close – equal to some 38% of annual world mining output.
Overtaking gold's gains in April,
silver prices
added 48% from New Year at early July's peak of $20.71, while gold bullion peaked with a gain of 28% at $1375 per ounce.
Silver has since cut its 2016 gains to 14% – well over twice gold's 5.6% year-to-date return – fixing just above $16 per ounce at midday in London today.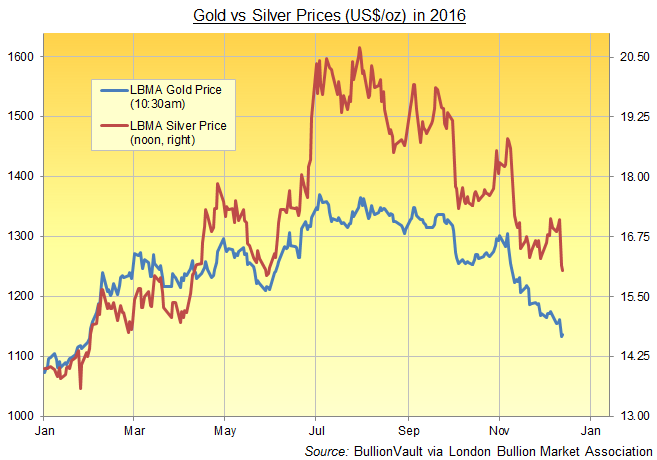 Chinese gold prices ticked down Friday to the lowest since April, fixing in Shanghai at 261 per gram shortly before the Yuan sank to a new 8.5-year low versus the Dollar.
That relative strength in Yuan prices helped pushed the Shanghai gold premium, over and above Dollar prices for London settlement, out to new 3-year highs at $40 per ounce.
Ahead of the key Chinese New Year season for consumer demand, dealers and analysts report that
Beijing is restricing gold import licences
, curbing inflows – and so boosting domestic prices versus global quotes – in an attempt to stem outflows of capital, seen dragging the Yuan further down.
Government bond prices meantime rallied Friday morning from the last 5 weeks sharp losses, nudging the annual yield offered by
10-year US Treasuries
down from this week's 30-month highs above 2.60%.
Commodities held flat overall, with US Nymex crude oil contracts rising back above $51 per barrel but
copper falling again
to trade almost 5% below early December's 18-month high.