SILVER slipped with other precious metal prices on Thursday in London, holding firmer than gold but weaker than platinum as Eurozone stock markets rose following US President Trump's positive trade meeting with European Commission chief Juncker, plus a "no change" decision from the European Central Bank.
Trump overnight claimed his meeting with the EC president showed that the US and EU "truly love each other", with both sides wanting to strengthen their "$1 TRILLION bilateral trade relationship – the largest…in the world."
Great meeting on Trade today with @JunckerEU and representatives of the European Union. We have come to a very strong understanding and are all believers in no tariffs, no barriers and no subsidies. Work on documents has already started and the process is moving…

— Donald J. Trump (@realDonaldTrump) July 25, 2018
Looking at global silver demand, "2018 will be a challenging year for China's solar market," says the latest weekly note from specialist analysts
Metals Focus
, "as it takes steps to ultimately becoming a subsidy-free industry."
Such "turmoil" is hitting the global photovoltaic market because other leading consumer nations are also looking to end 'feed-in tariff' subsidies, says Metals Focus.
"The slump in [solar cell] prices caused by oversupply will also force PV companies to restructure and accelerate their cost reduction roadmap to help survive during this transition period.
Automotive silver demand in contrast
could quadruple over the next 20 years
, says a new analysis from Thomson Reuters GFMS Rhona O'Connell, driven by "stellar growth" in demand for electric vehicles.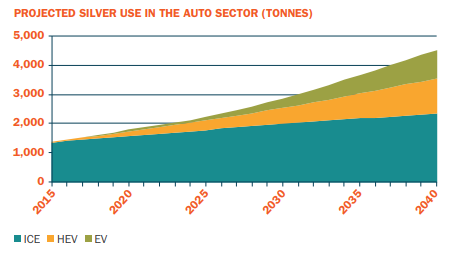 2040 represents a "keystone" for government promises worldwide to ban sales of traditional internal-combustion engine vehicles, O'Connell notes.
By then, automotive use of silver could jump from 3% in 2015 to 15% of the metal's total annual offtake according to GFMS's analysis.
That left the Euro currency unchanged after losing half-a-cent to the Dollar on news of the Trump-Juncker meeting overnight,
Gold fell back to show a $1 loss for this week so far in Dollar terms at $1228 and also erasing yesterday's 0.5% rise versus the single currency Euro to stand back at €1048.
Platinum prices
have now risen 5.8% from last Thursday's plunge to new 14-year lows in US Dollar terms.
Silver has risen 2.4% from that day's 3-month low, while gold has gained 1.4%.