GOLD PRICES fell back below $1190 and silver tumbled through $14 per ounce for the first time since January 2016 on Tuesday in London as the Indian Rupee – currency of the No.2 precious-metals consumer nation – fell to fresh all-time lows versus the US Dollar.
European stock markets fell for the 7th time in 10 sessions, pulling the
EuroStoxx 50 index
down towards its lowest close since February 2017.
New survey data today said economic sentiment in the 19-nation Eurozone has become markedly less negative so far this month, while small-business confidence in the United States has set a new all-time record on the
NFIB's four-decade survey
.
London's FTSE100 index meantime fell 0.5%, hitting a 5-month low, as Sterling spiked against both the Dollar and the Euro on confirmation that Canadian career policy-maker Mark Carney will stay on as Governor of the Bank of England into 2020
"to support a smooth and successful Brexit."
"[Gold] has shown excruciating weakness as the US economy demonstrated
a stellar performance
," Reuters today quotes Benjamin Lu, a commodities analyst at Phillip Futures in Singapore.
Like gold, silver last week saw hedge funds and other 'Managed Money' traders in Comex futures and options contracts build a record short net position on the metal, betting against more heavily than any time since current data began in 2006.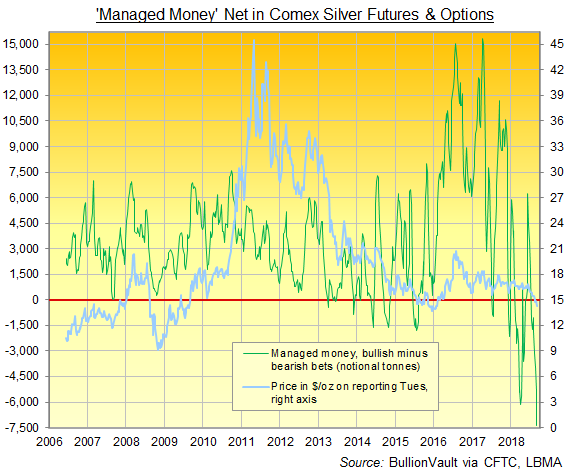 An increasingly key market for silver as consumers substitute the cheaper metal for gold, India today saw its Rupee hit a fresh all-time low against the US Dollar, down 12% for 2018 to date.
This latest plunge came as foreign investment funds – worried by stronger oil prices worsening the country's current account deficit with the rest of the world – dumped Rupee-denominated bonds to try and avoid the currency's next drop
according to Bloomberg
.
"There will be steps taken to arrest the fall as and when the government and the RBI feel it is the correct time to do so," claims the
Economic Times
, reporting that New Delhi has asked the central bank to consider 
ideas to stem the Rupee's slide
, including asking non-resident Indian citizens to hold their cash savings inside the country in a bid to close its current account deficit with the rest of the world.
The Chinese Yuan also fell back on Tuesday, dropping with 1% of mid-August's plunge to the weakest Dollar value since January 2017.
Together with quiet trade in Shanghai's gold market, that curbed the premium for metal landed in China rather than London beneath $7 per ounce, almost 20% below the typical incentive for new imports into gold's No.1 consumer market.
"[Gold] struggled to entice Chinese demand once Shanghai opened," says a trading note from Swiss refiners and finance group MKS Pamp.
"Flows were lighter than we are used to seeing and it looks as though participants are treading water until the metal breaks outside of the recent range."
As for silver prices, "Rallies are [also] being sold into," says MKS, "and thus far the metal hasn't been able to extend away from $14."