GOLD BULLION held firm against a rising US Dollar on Tuesday, bucking a small drop across commodities and global stock markets as claims and counterclaims continued over the weekend's apparently failed coup attempt in Turkey.
German economic confidence sank on the latest ZEW survey, dropping to
its worst level since late 2012
following the UK's Brexit vote to quit the European Union on 23 June.
Brexit could cost the 19-nation single currency Eurozone 0.5 percentage points of GDP growth in 2017, the
European Commission said
, while the same "severe scenario" could see a cumulative 2.6 percentage point hit to the UK's own economy.
Turkey's central bank meantime
cut its key lending rate for a fifth month running
, driving the Lira further down towards 2013's all-time lows on the FX market, even as the CBRT said it will maintain a "tight monetary policy stance" amid rising inflation expectations.
That drove gold bullion prices for savers and investors in what used to be the world's No.4 consumer nation back towards this month's fresh all-time record highs above TRY 128 per gram.
Trading at $1330 per ounce Tuesday lunchtime, gold bullion in Dollars "is now fully priced relative to US real interest rates, and the implied probability of a Fed rate rise this year has fallen close to zero," says the latest analysis from Ton Kendall at China-listed ICBC's Standard Bank commodities unit in London.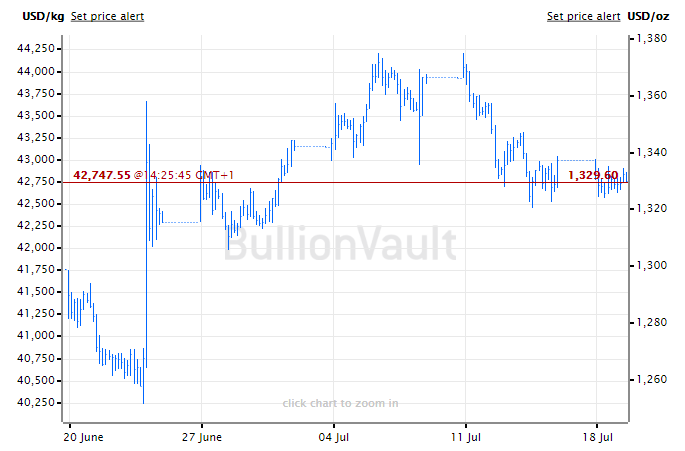 "Nevertheless, any correction is unlikely to be too deep. A drop…back to the $1280/60 area would likely be well bid, both from investors who missed the initial punch over $1300 and from parts of the jewellery market."
"Radical uncertainty may be even more acute today than it has been over the past several decades," says Fels, quoting a phrase coined by former Bank of England chief Mervyn King.
With 2,500 battle tanks and 340 attack helicopters, Turkey – formerly the world's No.4 gold consumer market, but overtaken by Germany – is the second-heaviest armed member of Nato behind the United States.
Deemed the "mastermind" of Friday night's failed coup,
Gulen again rejected Ankara's accusations
, suggesting that the violence was staged by supporters of elected President Tayyip Erdogan to enable a "witch hunt" of opponents.
Sporadic violence meantime continued, with 3 police officers shot dead in the Black Sea province of Trabzon while pro-government rallies in predominantly Sunni Muslim Turkey's eastern region of Malatya warned not to antagonise the minority Shia group of Alevi adherents.
Electrical power to the US airbase at Incirlik, from where drones and fighter jets leave to strike the Islamic State group in neighboring Syria,
remained cut off for a third day Monday
, according to the USA's European Command spokesman.
Gold bullion for UK investors meantime recovered last week's closing level at £1114 per ounce as the Pound weakened.
UK inflation rose in June towards an 18-month high, touching
0.5% per year on official data
before the impact of Sterling's post-Brexit slump to 3 decade lows on the forex market reached High Street prices.
A lawyer for the UK government today said new Conservative Party leader and prime minister Theresa May
will not trigger Article 50
– officially marking the start of the UK's exit – before the start of 2017.