GOLD PRICES extended their losses on Monday morning in London after Russian President Vladimir Putin scored a landslide election victory ahead of interest-rate decisions by the US Fed and the Bank of England this week, writes Steffen Grosshauser at BullionVault. 
Already down 0.8% last week, gold priced in the Dollar slid to its lowest level since 1 March even as the US currency dropped on the FX market, falling from $1314 to $1307 per ounce to hold below its 100-day moving average – a key technical level for some analysts.
Tensions between the UK and Russia worsened however after British foreign secretary Boris Johnson claimed that Moscow revived its Soviet-era chemical weapons program sometime in the last decade, with the nerve-agent attack on former spy Sergei Skripal and his daughter Yulia
"overwhelmingly likely"
to have been ordered by the Kremlin.
With betting that the US Federal Reserve will raise Dollar interest rates at its meeting on Wednesday now above 94%, hedge funds and other large speculators cut their bullish bets on gold derivatives last week, new data said late Friday.
Net of the group's bearish bets, the bullish position of Managed Money traders on Comex gold futures and options shrank 10% last week to the smallest net long position this year, according to US Commodity Futures Trading Commission (CFTC) data.
The Managed Money category held onto a net bearish position on silver for the 5th week running, the longest since mid-2015.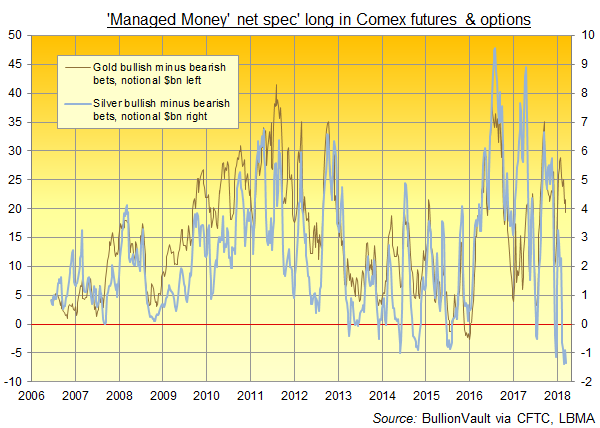 In contrast to derivatives betting, the largest gold-backed ETF, the SPDR Gold Trust (NYSEArca:GLD), expanded last week to need 6.5 tonnes more gold backing, ending Friday with 838 tonnes.
The giant iShares Silver Trust (NYSEArca:SLV) has now regained all of the 230-tonne outflow seen on January's sharp price rise, needing 9,922 tonnes to back its ETF shares.
Silver fell heavily on Monday, outpacing the drop in gold prices to reach $16.22 per ounce – a 2-week low when it touched this level last Friday.
Platinum prices
briefly touched $941, the lowest level since 3 January, while sister-metal palladium traded sideways in a small range below the $1000 mark.