BUY GOLD prices hit near-3 year highs for UK investors and savers on Tuesday as the Pound slumped with world stock markets after a new opinion poll put Leave campaigners well ahead in next week's 'Brexit' referendum on Britain's membership of the European Union.
The new survey by pollsters YouGov for The Times newspaper put Leave on 46%, its strongest showing to date, with Remain on just 39%.
Sterling fell over 1% to new 2-month lows on the FX market, driving prices to buy gold bullion up to their highest level for UK investors since August 2013 at £910 per ounce.
London's FTSE 100 share index meantime fell 1.2% to a new 4-month low, more than 15% below the record high of April 2015.
"Interesting argument that FTSE is down on Brexit fear," said John Stepek, editor of best-selling UK investment magazine
MoneyWeek
, "[because the]
worst-hit sector is global mining
stocks."
"[But] the latest run of UK referendum polls will
continue to exacerbate fears
of a potential global domino effect in the event of a Leave vote," the
Financial Times
quotes strategist Marc Ostwald at IDM Investor Services.
Eurozone stock markets also fell, down for the fifth day running in Frankfurt, as German Bund prices rose yet again, taking the yield offered to new buyers below zero for the first time in history.
"We must
set ourselves free from dictatorial
Brussels," urges the front page of
The Times
' fellow
News UK
daily paper
The Sun
– Britain's best-selling tabloid – calling the European Union "increasingly greedy, wasteful, bullying and breathtakingly incompetent in a crisis."
Ten-year US Treasury bond yields also fell, dropping intra-day below their lowest daily closing level since November 2012 at 1.59%.
UK Gilt yields meantime sank to new all-time levels at 1.18% on 10-year government debt, a record low in more than 3 centuries of trading.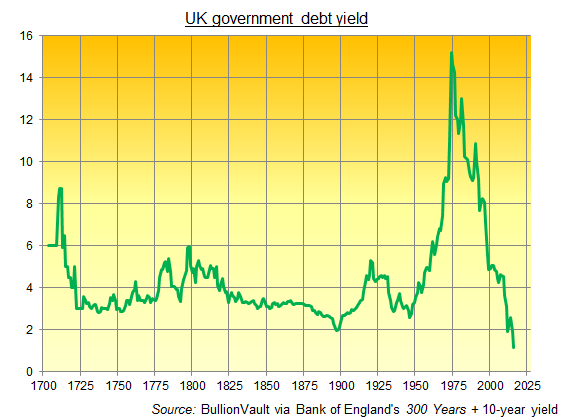 "Bond markets show prospect of vote leave is reassuring investors," claims UKIP politician Douglas Carswell MP, citing a comment from fellow Leave campaigner John Redwood MP that UK government
bond prices "have surged"
on the turn in Brexit opinion polls.
"Nerves around the UK's EU referendum are helping Gilts," counters the FT, "with many analysts pondering whether the Bank of England might be bumped into another round of bond-buying to stimulate the economy" if recession now follows.
The S&P 500 in New York was set to open Tuesday more than 2% below last week's 11-month high.
Chinese prices to buy gold at Shanghai's new gold price benchmark auction had earlier held flat in Yuan terms, but slashed their Dollar-equivalent premium above live London quotes to zero from Monday's $10 per ounce, as
spot trading volumes
slowed hard.
Silver meantime lagged the rise in prices to buy gold once more, trading up to $17.42 per ounce for US investors as gold rose twice as fast, adding 1% from last week's finish to trade above $1286 per ounce.