GOLD PRICES fell back below last week's closing level of $1280 per ounce in London on Wednesday, trading unchanged for 2019 so far as rumors said the UK's opposition Labour Party is moving to block a "no deal" Brexit when the country's quits the European Union on 29 March.
Gold priced in Sterling fell to 5-week lows beneath £985 per ounce as the Pound jumped to $1.30 on the FX market.
"[But] the decision remains the same – the deal,
no-deal or no Brexit
," said Theresa May today at
Prime Minister's Questions
 after suffering last week's historic defeat over her proposed deal, set to go before MPs again next Tuesday.
"The global war against globalism arguably started in November 2016," says a
2019 outlook
for gold and silver from Canada's Scotiabank, pointing to US President Trump's election victory.
"Overall, rising geopolitical risks are no longer a tail risk, and are becoming more frequent but also less 'tradeable'…Gold is a stable, cheap, un-political (currency) hedge against uncertainty surrounding Brexit, key elections in large/important countries, EU parliamentary elections and the US-Sino trade dispute."
Wednesday's rally in the Pound extended its rise to the highest Dollar rate since mid-November after newspapers and wires
yesterday reported record-high
UK employment figures, plus the fastest average UK wage growth in a decade.
Measured after inflation however,
total average pay
showed only the fastest real-terms rise since autumn 2016 at 1.1%  per year.
Average UK weekly wages remain more than 6% below their real-terms peak of early 2008, just before the UK and US banking bubble flipped into a global financial crisis.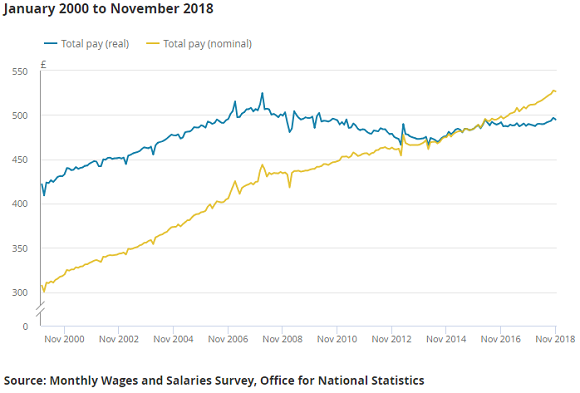 "Manufacturing new orders flattened in the quarter to January," says
UK business lobby the CBI
today, "and sentiment about both the business situation and export prospects tumbled on Brexit uncertainty" according to its latest survey.
Euro gold prices also fell back Wednesday, erasing the week's earlier 0.4% rise to trade back at €1128 per ounce.
European equity markets added 0.6% on average, while new data showed jobs growth in France
slowing down
in the 4th quarter of 2018.
India's
Business Standard
today reports that the Shanghai Gold Exchange – China's only legal route for bullion to enter the world's No.1 gold consumer market – is looking to
expand into the No.2 market
with a gold exchange in Gujarat's International Finance Tec-City district.
Likely to include a government-approved bullion exchange, India's official gold policy is likely sometime this month, said Commerce and Industry Minister Suresh
Prabhu in late-December
.
"We are pushing for an integrated gold policy," he said.
India's huge jewelry sector is
again hoping for a cut
to gold import duty in this year's government Budget, due for announcement on 1 February.
Now at 10%, India's gold import duty hasn't changed since the anti-import crackdown of 2013.
Failing in early 2018 to find a buyer meantime for its Scotia Mocatta bullion business, Canada's Scotiabank will
now integrate much of that operation
into its global organization, hiring and re-hiring key staff but losing the 'Mocatta' name – known in the London bullion market since 1671 – and closing its supplies to the Italian and India jewelry industries.