GOLD PRICES rallied $5 per ounce from Friday's $20 drop in London trade on Monday, rising to $1335 against a stronger US Dollar as a sell-off hit world stock markets for the 5th time in 6 trading days.
Commodity prices fell again Monday, but European government bond prices rebounded, edging longer-term interest rates lower from last week's multi-year highs.
Benchmark US Treasury bond yields opened Monday at 2.85%, the highest weekly start since January 2014.
Ahead of last week's drop in gold prices, bullish betting by hedge funds and other money managers grew for the 7th week running, according to data compiled by US regulator the CFTC.
Reaching its largest size since September, the net long position amongst these professional Comex gold speculators stood 75% above its long-term average.
So-called "non-reportable" traders, in contrast, cut their bullish bets while raising their bearish bets on gold prices to the highest level in almost 5 months.
That held the net bullish position amongst these smaller, typically private-individual traders at barely half its long-term average.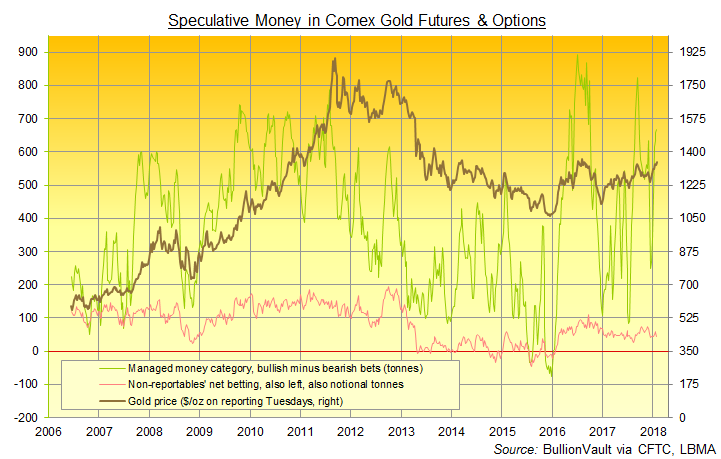 Despite Chinese New Year falling at the end of next week, wholesale Shanghai gold prices today extended Friday's drop in global Dollar quotes, touching new 2018 lows at ¥271 per gram and trimming the premium for bullion landed in the world's No.1 consumer nation below $7.40 per ounce.
This close to Chinese New Year 2017, that incentive for new imports was twice as large. 
"Early session weakness around the Chinese open saw bullion briefly
test underneath $1330
," says today's Asian trading note from Swiss refiners MKS Pamp, "while afternoon pricing saw a modest pick-up in interest, however still hold rangebound."
Indian gold prices meantime traded down to a 50 cents discount to global quotes, allowing for the No.2 consumer nation's 10% import duty, after holding a small $1 premium last week – the longest stretch of premiums so far in 2018 according to data from futures contract exchange NCDEX.
Discounts in the key terminal of Ahmedabad last month ran as deep as $4 per ounce because "the industry was expecting [a] duty cut in the budget," Reuters today quotes senior analyst Sudheesh Nambiath at specialists GFMS, "[so] people were not willing to build inventory."
Legal gold imports into India – which has zero domestic mine output – fell in January to
the lowest in 17 months
, Nambiath estimates.
Last Thursday's new government budget made no changes to duty or tax rates on gold. But its pro-growth policies
should help boost rural incomes
 to buoy 2018 demand the
Economic Times
 says, quoting various dealers.
"The government will also establish a consumer friendly and trade efficient system of
regulated gold exchanges
in the country," declared finance minister Arun Jaitley, confirming the shape of New Delhi's proposed gold policy in his Union Budget for 2018-19.
Platinum prices
meantime rebounded with gold on Monday, holding below $1000 per ounce after the sharpest weekly drop since early December followed the 8.0% gains made in January.
Silver also rallied but recovered less of last week's plunge after whipping over $1 lower from a 4-month high to a 6-week low inside 6 trading days.