GOLD PRICES slipped from an overnight spike to fresh 5-week highs against the falling US Dollar on Tuesday, dropping 1.1% as world stock markets jumped, extending yesterday's strong rebound on Wall Street.
After suffering its worst week since gold prices peaked in 2011, the US stock market yesterday recorded its
strongest 1-day gain
since late 2015, with the Dow Jones index showing its third-ever largest points gain.
Tuesday's jump in equity prices added 2.7% to Japanese shares and 1.9% to Germany's stock market, cutting their losses from this time last month to around 4%.
London's FTSE100 of primarily global stocks rose almost 2.0% for the day even as the Bank of England – widely
expected to hike UK interest rates
at its next meeting – warned that "a loosening of credit conditions" in mortgage lending to higher-risk borrowers may force it to take "
targeted policy action
". 
"Investors are still viewing this as
a glass half-full market
and a constructive economy," says Seattle asset group US Bank Wealth Management's Rob Haworth, "so it's not surprising to see them buy on value here, buy on dips to try to rebuild their positions."
Gold prices dropped $15 by lunchtime in London having touched $1356 per ounce overnight in strong Asian trade.
Monday afternoon's price of $1352.40 had marked gold's highest benchmarking since late-January's 17-month highs, some 3.0% higher from one week before.
But investment through giant trust fund proxy the SPDR Gold Trust (NYSESArca:GLD) shrank however, needing 3 fewer tonnes of bullion to back the value of its shares in issue.
The GLD's holding last week reached a 5-month high of 850 tonnes as gold prices fell towards their lowest levels of 2018 to date.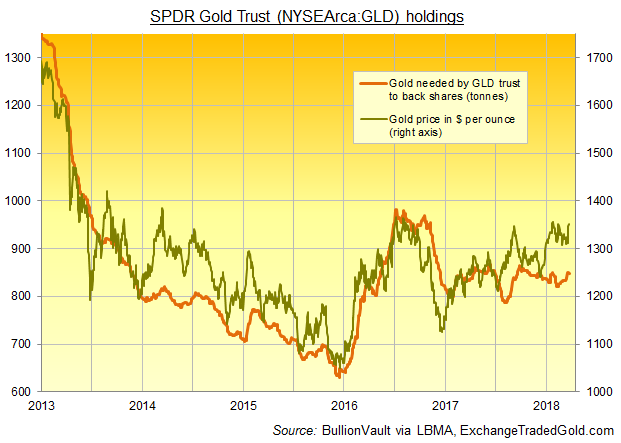 "The latest political tensions [have been] pushing the prices of precious metals," reckons
a note from Belgian refining group Umicore
's trading desk, pointing to the United States' expulsion of 60 Russian diplomats over the Skripal nerve agent poisoning in Britain.
The Russian foreign ministry today
reproached the US
and other nations for not delaying their action amid news of 64 deaths in a fire at a shopping mall in the Siberian city of Kemerovo.
Press reports on Tuesday meantime speculated that North Korea dictator
Kim Jong-un visited Beijing
at the weekend as part of denuclearization talks ahead of potentially meeting US President Donald Trump.
The Dollar fell sharpest against the Chinese Yuan on Tuesday, hitting new 2.5-year lows at its weakest since Beijing devalued its currency in August 2015.
That failed to stop the Shanghai gold premium – the incentive for new imports into China, and so a measure of supply vs. demand in the No.1 consumer nation – recovering towards their typical level at $8.35 per ounce.
Major government bond prices meantime rose again on Tuesday, pushing longer-term interest rates further below their recent multi-year high.
Most industrial commodities also rose, but silver and
platinum prices
followed gold lower after spiking to 3-week and 2-day highs respectively, also trading back around last week's closing levels of $16.58 and $949 per ounce.