PLATINUM PRICES outpaced gold and silver again on Friday in London, extending this week's rally against the falling US Dollar to 5.1% as world stock markets also rose.
China's stock market jumped over 3%, hitting 4-week highs as analysts said Beijing has built
a strong economic "cushion"
against its worsening trade war with the United States.
Donald Trump's ex-strategy advisor Steve Bannon, however, told the
South China Morning Post
overnight that the White House is aiming to make the trade war
"unbearably painful" for China
, forcing it to cut tariffs and open its markets to more US goods.
With the Dollar falling to 3-month lows this morning versus the Euro currency Friday morning, gold added $10 for the week to trade at $1205.
Silver doubled that rate of gain to add 1.9% from last Friday's finish, briefly touching $14.40 per ounce.
Platinum's gain to $838 meantime cut the metal's discount to gold prices to a 6-month low on Friday morning at $370 per ounce.
Over the last quarter-century,
platinum prices
have averaged a premium to gold of $160.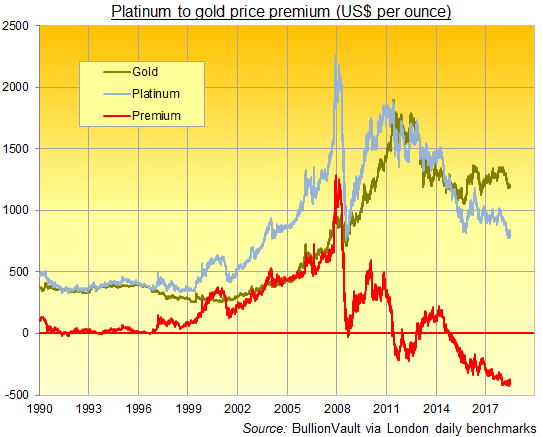 Sister metal palladium also rose Friday but less quickly, hitting 8-month highs in US Dollar terms at $1058.
That trimmed its premium to platinum to $220 per ounce – a gap beaten on only 75 trading days during palladium's spike above and plunge from $1000 in 2000-2001.
"Palladium continues to be in demand by industrial users and supplies remain very tight," says a note from Japanese conglomerate Mitsubishi.
"[That's] reflected by the continuing market backwardation," with spot prices trading above palladium prices for future delivery.
Looking ahead, analysts at Canadian financial services firm BMO say they "have some worries about palladium being a one-trick pony" – relying for 80% of its demand on gasoline engines, against 40% of
platinum's demand
coming for autocatalysts in diesel vehicles – and "as a result, we have palladium back below platinum on a longer-term basis."
The British Pound meantime hit 9-week highs against the Dollar on Friday, keeping the
UK gold price in Sterling terms per ounce
unchanged for the week at £913 – some £5 above Thursday's drop near the lowest price since June 2016's shock Brexit referendum result.
UK prime minister Theresa May's so-called
"Chequers plan" remains "credible"
said a member of her Government today, despite this week's outright rejection – most notably over the issue of a "hard border" between Northern Ireland and the Republic of Ireland – by both the European Commission and leaders of the other 26 European Union states after meeting in Salzburg.