GOLD PRICES edged higher against a falling US Dollar on Monday morning in London as world stock markets rose to fresh all-time highs, writes Steffen Grosshauser at BullionVault.
Silver tracked gold prices, also dropping against the Euro and British Pound, while platinum jumped.
Primarily used in catalysts to clean diesel engine emissions, platinum added 1.5% in Dollar terms –nearing $907 per ounce – after South Africa's Sibanye-Stillwater (JSE:SGL) said it will
cut one-third of jobs at Lonmin
(LON:LMI) as part of its takeover of the world's No.3 producer.
Hedge funds and other speculators trading Comex futures and option last week went negative on platinum overall for the first week in five after hiking the number of bearish bets they hold to 5 times the last decade's average.
The 'Managed Money' category of Comex derivatives trader also went 'net short' overall on silver in the week-ending Tuesday 12 December – the first such negative position since July and only the 31st since current records began 600 weeks ago.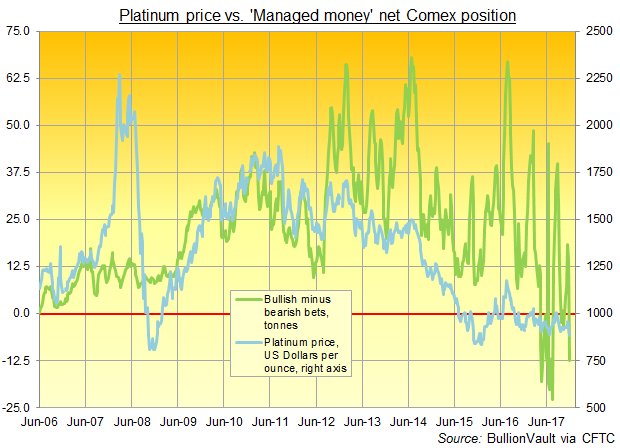 Donald Trump's overhaul of the US tax system meantime moved closer to ratification on Monday as the President's Christmas deadline for approval by Congress drew nearer.
Crude oil prices rose amid the ongoing North Sea pipeline outage, plus a strike by Nigerian oil workers.
Bitcoin bounced back towards Sunday's fresh all-time highs at $19,600 after it lost $1,500 immediately that the CME futures exchange launched cash-settled derivatives on the crypto-currency overnight.
"The tax reform is negative for gold," reckons Richard Xu, fund manager at China's biggest gold exchange-traded fund HuaAn Gold.
"We expect gold to stay pretty depressed."
"Nobody cares about gold right now," says Joe Foster, investment team manager for the Van Eck International Investors Gold Fund,
quoted by Bloomberg
.
Ahead of last Wednesday's US Federal Reserve decision to raise Dollar interest rates to 1.5%, hedge funds and other speculative traders last week cut their net long position in Comex gold contracts to the smallest since July.
Down at the notional equivalent of 250 tonnes net of bearish bets, that speculative long position was 10% smaller than the last decade's weekly average. 
"I think it would be foolish not to have an allocation to gold," says Foster at Van Eck, "because it has a very low correlation to stocks and it's a hedge against systemic financial risk."
Gold prices rose within 7 cents of $1260 per ounce Monday morning before easing back, while silver erased a 10 cent pop to $16.14.
Trading up to $906, platinum today recovered its starting level of 2017 against the Dollar.
Gold and silver prices were 9.2% and 0.9% higher respectively from last New Year's Eve.