SILVER and PLATINUM PRICES outran gold's recovery on Monday against a falling US Dollar, jumping near 2-week highs as world stock markets dropped following another North Korean missile test, writes Steffen Grosshauser at BullionVault.
Major corporate and government I.T. systems continued to suffer from last week's WannaCry ransomware attack.
Measuring the greenback's value against a basket of other major currencies, the US Dollar Index fell almost 1% from last Thursday's 3-week high.
Silver jumped to touch $16.80, some 4.5% above last week's near-2017 low, while
platinum prices
marked the start of annual industry meeting Platinum Week in London by gaining 1.8% from Friday's finish to touch $938 per ounce.
Bullish betting on Comex silver futures and options against hedge funds retreated for the 4th week running last week,
new data showed
after Friday's close, extending the sharpest cut to 'Managed Money' net positioning in silver since the metal hit 6-year price lows at the end of 2015.
In platinum meantime, hedge funds and other speculative traders grew their bearish betting again, marking only the second week of net bearish positioning on US regulator the CFTC's 11-year records.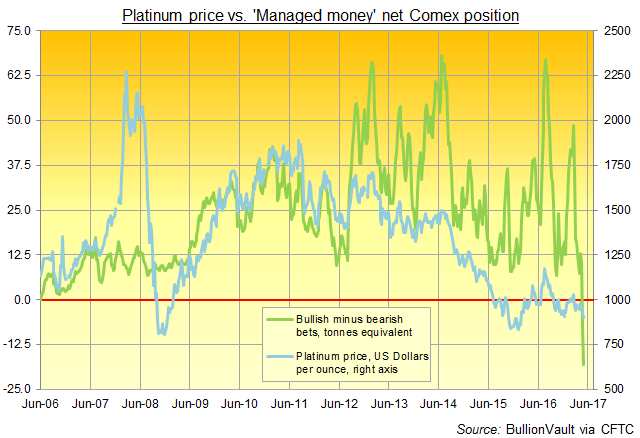 Friday's poor US retail sales data "seems to be pointing to a weakening trend," reckons Helen Lau at Australian stockbroker Argonaut Securities. 
"Based on what we have so far, unless there is more stronger data, more than two [US Fed] rate hikes are not very likely" before 2017 ends, Lau believes.
While pricing in a June rate hike probability of more than 70%,
futures market betting
currently puts just an 11% chance on the Fed raising 3 times more before New Year, according to the CME Group's FedWatch tool.
North Korea's latest missile test is "
underpinning support
for gold but at the moment it's obviously not escalated to the point where investors are becoming overly worried about," commented Australia and New Zealand Bank Group (ANZ) commodity strategist Daniel Hynes.
US lawmakers have meantime asked President Donald Trump to hand over any existing tapes of conversations with James Comey – the FBI director investigating claims of Moscow interference in last year's US presidential election, suddenly sacked by Trump last week.
Gold in Dollar terms rallied Monday from last week's close of $1228 to hit $1236 per ounce.
"Robust demand for platinum from the automotive sector continues to confound many negative expectations in the market," says Paul Wilson, chief executive officer of mining-backed market development organization the
World Platinum Investment Council
, today launching its latest quarterly analysis to mark Platinum Week here in London.
"Supply [in contrast] will become increasingly constrained in 2017."
European stock markets meantime slipped again Monday as crude oil prices jumped over 3% after the energy ministers of Saudi Arabia and Russia
announced that an Opec deal
to cut production would be extended.