PLATINUM edged back 1% on Wednesday from yesterday's bounce off sudden 14-year lows, trading at $838 per ounce as gold prices pushed higher, rising to touch 1-week highs at $1260.
Among Western investment products, the SPDR Gold Trust (NYSEArca:GLD) – the world's largest exchange-traded fund backed by metal – shrank yesterday for the 5th session running despite gold's first price rise in 7 trading days.
That left the GLD needing a new 11-month low of 803 tonnes of bullion as the number of ETF shares in issue fell.
Looking at platinum, "Somebody's loss-cutting yesterday created a great opportunity for other traders," says Bruce Ikemizu, Tokyo branch manager for Chinese investment and bullion bank ICBC Standard.
Tuesday morning's
"Tocom dump" in platinum prices
was, he says, caused by bullish speculators in Tokyo futures contracts all quitting their positions together, driving prices sharply lower on the heaviest 1-day volume in 3 years.
"When
margin calls
hit derivatives traders, you have no choice but to sell.
"Hopefully no one shorted platinum yesterday at the bottom!"
Platinum priced in Japanese Yen today peaked 5.3% above yesterday's crash low, but remained near its cheapest since the global financial crisis of early 2009.
Compared to gold however, the Dollar price today showed a discount of $418 per ounce, near yesterday's morning's all-time record gap.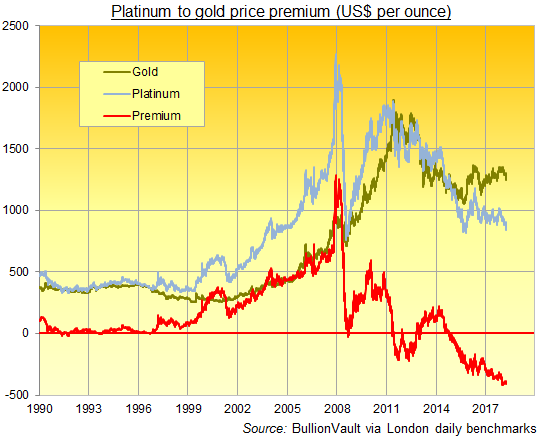 "First, a looming trade war between the US and China has weighed on prices, especially cyclical precious metals such as platinum and palladium.
"Second, the recovery of the US Dollar is negative for all precious metal prices.
"Third, a downshift in expectations about the Eurozone economy has been a negative for platinum prices."
Western Europe is the largest market for diesel-engine cars, from which platinum catalysts help cut harmful emissions.
On the supply side, platinum miner Sibanye-Stillwater (JSE: SGL) – now aiming to become the No.1 producer with a take-over of ailing No.3 Lonmin (LON:LMI) – last week reported
the death of 21 workers so far this year
, prompting at least two separate US attorneys to invite investors to join 'class action' lawsuits alleging "false and/or misleading statements [over an alleged] culture which places short-term profits over safety," leading to share-price losses since the story broke. 
Meantime in gold, Shanghai's benchmark price edged higher on Wednesday even as the Yuan bounced hard on the FX market from yesterday's plunge to 11-month lows versus the Dollar.
But with Dollar gold prices for London settlement rising faster, that failed to boost the incentive for new imports to China – the No.1 gold consumer nation – squashing the Shanghai premium down to a fresh multi-month low around $4.35 per ounce.
In contrast to gold's largest ETF, silver's 7th daily price drop on Tuesday saw the iShares Silver Trust (NYSEArca:SLV) expand yet again, growing in size near an 11-month high 10,072 tonnes of bullion backing as investor demand grew that ETF's number of shares in issue.
SPDR's
new "minishares" GLD gold product
– tracking the price of 1/100th of an ounce, and launched at end-June with the cheapest annual costs of any gold-backed ETF – has expanded by 10% over its first week of trading to need 0.7 tonnes of backing by Tuesday's close in New York.
Trading volume in GLDM shares has
fallen each day however
, dropping yesterday to barely 1% of the turnover seen when it launched a week earlier.