GOLD PRICES rose 0.8% to $1352.49 per ounce this Wednesday lunchtime amid Dollar index decline after weak U.S. productivity figures were published yesterday.
Silver prices made a more significant gain of 1.9% to $20.32 per ounce.
However, palladium gained the most by climbing as much as 7.6% to $746.38 per ounce this morning, the highest level since June 2015.
Platinum was also up 2.4% at $1,177.80, after rising to $1182.20 per ounce, the highest since April 2015.
Second-quarter productivity in the U.S. declined by 0.5%, the third quarter in a row of declines and the longest streak since 1979.
The Dollar index, which tracks the U.S. currency against a basket of six peers, retreated 0.6 percent to 95.599 UK lunch time, as investors re-evaluated whether the U.S. Federal Reserve will raise interest rates this year.
Markets are currently pricing in less than a 50% chance of a rate hike in December, according to CME Group's Fed Watch tool.
Asian stock markets finished the day down. The Nikkei 225 closed down 0.18%, Chinese Shanghai composite down 0.21%, Shenzhen composite down 0.328% and HK Hang Seng index down 0.18%, as investors awaited important data from China due Friday, including industrial production, fixed asset investment and retail sales.
European stocks are also trading lower, FTSE down 0.29%, Dax down 0.51% & CAC 0.33%.
Crude oil is down 1.26% to 42.23 prior to OPEC releasing its monthly oil market report later today. OPEC members are due to meet in September to discuss a production freeze.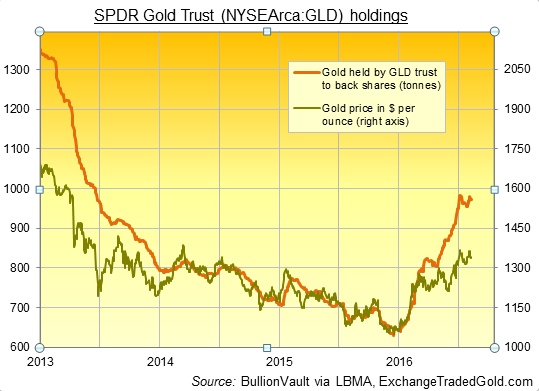 The world's largest gold-backed exchange traded fund the New York-listed SPDR Gold Shares (NYSEArca:GLD) reported the second day outflow of 1.2 tonnes to 972.62 Tuesday after 6.5-tonnes Monday, which was the largest in over a month. This offset its growth of 7.1 tonnes last Friday.
'This is likely a cautionary function from investors following the strong NFP figure on Friday, who are looking to trim positions with the rate expectation becoming more cloudy.' the Asian trading desk of Swiss bullion refiner MKS said.
UK gilt yields hit record lows touching just 0.123% today after Bank of England bond-buying failure yesterday.
Gold prices for UK investors retreated 0.5% to £1,034.01 per ounce as the pound gained 0.49% on the US Dollar to just above $1.30 after dropping below this level for the first time yesterday since the Brexit referendum.
The pound was depressed further yesterday after BOE policy maker Ian McCafferty warned in The Times on Tuesday that further rate reductions and QE may be required.