GOLD PRICES rose Monday against a declining Dollar following US Federal Reserve chief Jerome Powell's promise to be "patient" before making any 2019 hikes to interest rates, writes Atsuko Whitehouse at BullionVault.
Spot gold prices peaked 0.7% above Friday's closing level, touching $1295 per ounce but holding dead-flat for UK and Eurozone investors at £1012 and €1128 respectively.
The Dollar Index (DXY), a gauge of the currency's value versus six major peers, declined to a 2-month low despite Friday's strong US jobs data.
While Powell's comments on Friday saw Wall Street rally hard, they also saw the SPDR Gold Trust (NYSEArca: GLD) – the world's largest gold-backed exchange-traded fund – expand to its largest size since end-July on investor demand for the ETF shares.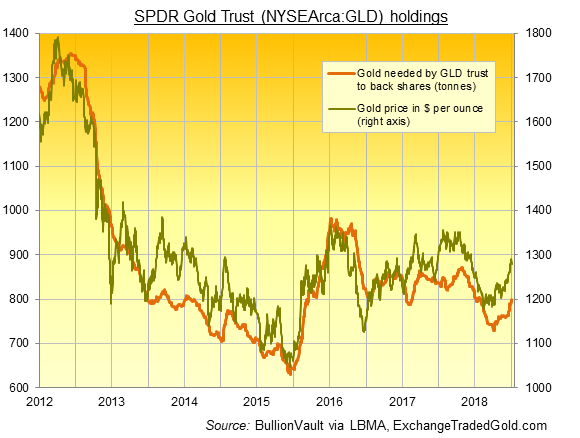 "The Dollar is weak, aiding gold," says Yuichi Ikemizu, Tokyo branch manager, ICBC Standard Bank.
"Also, Jerome Powell's views on Friday about the future of interest rate hikes is a bullish factor for gold."
Speaking to the American Economic Association, "There is no preset path for policy," said the Fed chairman on Friday, contradicting his previous comments that quantitative tightening – the reduction of central bank Treasury-bond holdings begun 12 months ago – is now on "autopilot".
"Particularly with muted inflation readings that we've seen coming in," Powell added, "
we will be patient
as we watch to see how the economy evolves."
China's central bank meantime said Monday it
increased its gold reserves
to about 1,853 tonnes last month, keeping it in 6th place behind Russia among nation-state holders with the first such announcement since October 2016.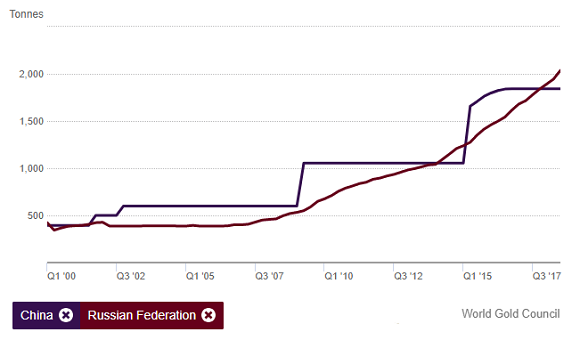 Monday also saw a fresh round of US-China trade talks start in Beijing.
"I think China wants to get it resolved. Their economy's not doing well," US President Donald Trump told reporters at the White House over the weekend.
"I think that gives them a great incentive to negotiate."
China's Yuan today headed for its strongest level against the Dollar in a month, rallying despite the monetary easing announced Friday by the PBoC after new data said manufacturing activity is shrinking in the world's No.2 economy.
Over in the UK the British government
confirmed next Tuesday
as the date of Parliament's "meaningful vote" on the terms of leaving the European Union on 29 March.
Preparing for a "no deal Brexit" if Prime Minister Theresa May's deal fails to win, the government also today held what it called
a "rehearsal" for managing freight traffic
on a major road near the key Channel port of Dover.
The British Pound edged higher against the Dollar, as did the Euro currency despite data showing German factory orders fell more than expected in November.
European stock markets meantime fell 0.6%, failing to join Asian equities in extending Friday's 3.4% jump in New York's S&P500 index.
Silver prices
followed gold higher against the Dollar, nearing a 6-month high at $15.76, while platinum rose to $825 but continued to lag sister-metal palladium, which set a fresh all-time high of $1310 per ounce last week.