GOLD PRICES rose yet again in all major currencies bar the Japanese Yen on Thursday, extending New Year 2019's gains to new all-time record highs against the Australian Dollar as Asian trading saw fresh turmoil in currency and equity markets.
The UK gold price in Pounds per ounce
touched £1032 when Asian trade began, slipping back £10 in London hours, while gold priced in Euros touched €1033, some 12.0% higher from September's 32-month low.
Gold priced in US Dollars meantime edged above $1290 for the first time since June as commodity prices hit new 18-month lows on
Bloomberg's index
of natural resources.
Major government bond prices also jumped, pushing yields down once more to erase the last of 2018's rise in longer-term interest rates for US, UK and Eurozone investors.
Termed a dash into "safe havens" by traders and analysts, the overnight turmoil in Asia also saw Yen gold prices spike down to 3-month lows as the Japanese currency leapt despite last month's news that the world's third largest economy
shrank 2.5% annualized
in the July to September period of 2018.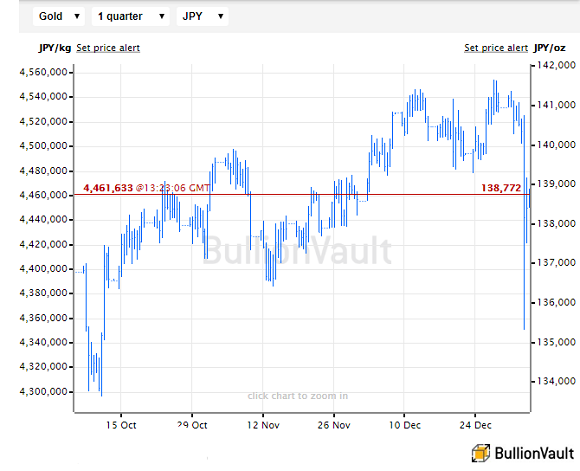 "Liquidity was non-existent on the move," says
a trading note
from Swiss refining and finance group MKS Pamp, "with spreads [between buy and sell prices in Australian Dollars and Japanese Yen] blowing out to
over a big figure
for about 10 minutes.
"Given the rapid fall in the AUD…[gold in Aussie Dollars] opened an astonishing A$35 higher at $1875 and continued to push toward $1880.
"Australian [mining] producers were slow to realise," MKS goes on, pointing to the world's second-largest gold miner nation, "but have since been seen consistently on the offer, taking advantage of the very bullish move" to sell metal and lock in these record-high AUD gold prices.
Prices for producers in
No.5 gold miner Canada
also rose steeply, spiking to the highest since November 2017 at C$1760.
Chinese gold prices meantime hit their highest since April 2017 overnight Thursday, rising 10.0% in Yuan terms from last August's multi-month lows and fixing in Shanghai at the equivalent of $1300 per ounce at today's afternoon benchmarking auction.
Coming after new factory data said manufacturing activity in the world's 2nd largest economy 
shrank for the first time in 19 months
in December on falling export and domestic orders, that put Shanghai gold prices more than $11 per ounce above London quotes.
That extended the last week's run of seasonally strong incentives for new gold imports to the metal's No.1 consumer nation ahead of the Chinese New Year, starting the Year of the Pig on 5 February.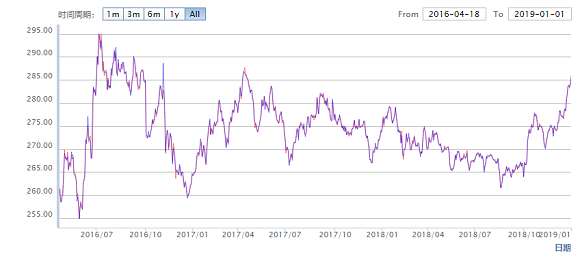 "My feeling is that the market is virtually positioned for a mild recession, but I just don't think that it's going to happen," said Wharton professor Jeremy Siegel to MarketWatch of the US equity slump on Wednesday.
Wednesday saw the giant SPDR Gold Trust (NYSEArca: GLD) expand by 1.0% as investor demand outpaced selling of the world's largest
gold-backed ETF trust fund
.
Growing to need 795 tonnes of bullion backing, the size of the GLD now shows a 4-week correlation with the Dollar gold price of +0.92, the most positive reading in 5 months.
That figure would read +1.0 if gold and the GLD's size moved perfectly together.
Since Christmas Day the GLD has now grown by 21.2 tonnes, the heaviest 5-session inflow since September 2017.
Platinum again held little changed Thursday, trading below $800 per ounce, but silver tracked gold prices higher, touching 6-month highs at $15.62 per ounce.
Priced in US Dollars, silver moved in the same direction as gold prices for the 9th time in the last 10 years in 2018.
But while gold slipped 1.1% across last year to finish at $1281 in London's wholesale bullion market,
silver prices
fell 8.3% to finish at $15.46 per ounce.