GOLD PRICES recovered $10 per ounce from a new 10-month low at $1160 set in Asian trade Friday, heading for a 1.1% weekly loss in London as the Dollar held below this week's new 13-year highs following new US jobs data in line with analyst forecasts.
The official non-farm payrolls report said the US added 178,000 jobs in November, cutting the
unemployment rate
to its lowest since May 2007 at 4.6%.
With Dollar gold prices lower overnight, China's
benchmark price
in Yuan fixed well above quotes for London settlement once again, offering a $25 per ounce premium
amid restrictions on import licenses
from the central bank ahead of the No.1 consumer country's key buying period, peaking with the Chinese New Year on 28 January 2017.
Western fund managers and other investors in gold ETFs meantime cut their holdings yet again on Thursday, liquidating 1.5% of the SPDR Gold Trust (NYSEArca:GLD) to reduce its bullion backing by 112 tonnes from July's three-year high.
That's equivalent to 13 days of global gold mining output.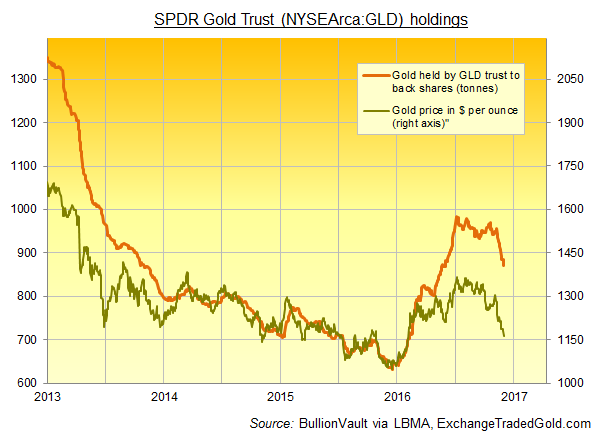 "Given that the [gold] market has already moved and positions have been adjusted,"
says analyst Joni Teves
at Swiss bank and bullion market maker UBS, "we think any further downside from here is likely to be relatively more contained.
"Gold is now looking attractive around these levels…The rationale for holding gold from a strategic standpoint remains intact, in our view."
The
most bullish forecaster for 2016
in January's London Bullion Market Association competition, Teves predicted an average price of $1225 per ounce – more than 11% above the 30 other professional analysts' average forecast.
With 30 days remaining until 2017 begins, gold has averaged $1256.72 this year to date.
Last year's LBMA winner, Bernard Dahdah of French bank Natixis, forecast an average 2016 gold price
of $970 per ounce
.
Teves at UBS now sees prices rising to $1300 "in the months ahead…against the backdrop of lingering macro uncertainty…easy monetary policy or [a] risk-off scenario."
Creating and spending €80 billion per month to buy Eurozone government bonds and other securities, the European Central Bank
will extend that quantitative easing
for a further 6 months from the current deadline of March 2017 when it meets to set policy next week, according to a poll of analysts published Friday by the Reuters news-wire.
Italy votes Sunday in a referendum on constitutional reform now widely seen as a ballot on Prime Minister Renzi's economic policies.
A finance conference last week saw
only 3% of attendees back
the Renzi government's plan for resolving the €360bn of "problematic debts plaguing the balancesheet of Italian banks," reports the
Financial Times
.
Austria also goes to the polls Sunday to elect a new president, re-running the ballot from May when Green Party leader Alexander van der
Bellen narrowly defeated Norbert Hofer
from the rightwing nationalist Austrian Freedom Party, only for the result to be annulled over voting irregularities.
The Turkish Lira hit fresh all-time lows on the FX market Friday after Erdogan –
blaming "someone's tricks"
and urging households to buy the currency, as well as gold – said there's "no option" but to cut interest rates, repeating his demand than Ankara's independent central acts to try and revive the economy of the world's 5th largest gold consumer nation.