GOLD PRICES rallied from new 7-week lows on Monday as the Euro retreated from a 6-month high on the FX market, hit after centrist ex-investment banker Emmanuel Macron won the French presidential election with a large margin, writes Steffen Grosshauser at BullionVault.
The pro-EU candidate of the new En Marche! party he founded only last year won twice as many votes as anti-EU contender Marine Le Pen of the Front National.
Asian stock markets rose as the French presidential election result became clear, but
the CAC40 in Paris
then led Western equities lower, dropping over 1% from Friday's finish – the index's highest close since early 2008.
The price of 'core' Euro member government bonds rose, nudging French and German interest rates down, but Euro debt from Spain, Italy and Portugal fell in price, driving their cost of borrowing higher.
With neither the Socialist nor Republican parties ruling France since WWII having a candidate in the final round, record
numbers of French voters
abstained or defaced their ballot paper on Sunday.
France goes back to the polls next month for parliamentary elections likely to determine Macron's scope for fiscal and economic reform.
"Leading into the election, with many polls predicting Macron's victory, we saw safe-haven buying easing into end of last week," reckons Australia and New Zealand Bank Group (ANZ) commodity strategist Daniel Hynes.
But "gold is still
pretty much wanted
after last week's fall," says ICBC Standard Bank's Tokyo head of commodity trading, Yuichi Ikemizu.
"People are happy to buy around this level." 
Latest data released Friday say that hedge funds and other speculative traders under
the 'Managed Money' category
cut their bullish betting on Comex gold futures and options for the first time in seven weeks in the week ending last Tuesday.
Accounting for bearish bets, that group trimmed its net long position by 11% from late April's 5-month high.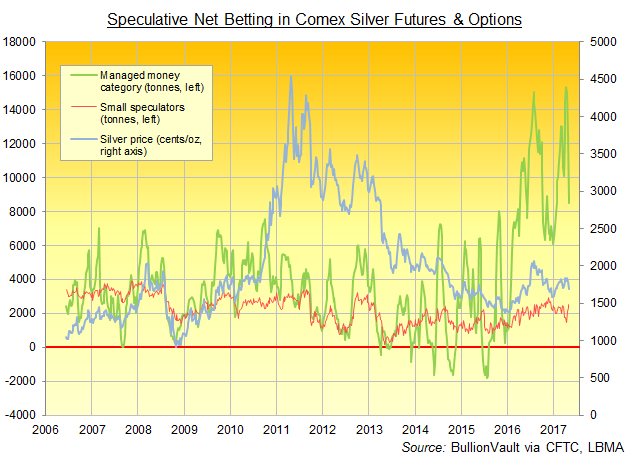 The Managed Money's cut to silver positions was more dramatic still, slashing the net speculative long on Comex contracts by almost one-third, down to a level last seen in January, according to data compiled by the Commodity Futures Trading Commission (CFTC).
The biggest drop in net spec' betting on silver since December 2015, that 32% reduction was equal to 3,981 tonnes of notional metal – some 14% of annual world silver mine output.
Silver's net speculative betting on Comex has now fallen 45% since setting new all-time records in mid-April, just as prices touched 5-month highs at $18.65 per ounce.
Silver prices failed to rally with gold prices Monday, holding unchanged in Dollar terms at Friday's new 2017 weekly closing low of $16.34 per ounce.
Gold prices meantime halved their $8 overnight gains to trade at $1231 per ounce.
Gold has now lost 5% since the 5-month high of $1295 hit in mid-April.