GOLD TRADING in global wholesale center London saw prices sink at the opening of business on Monday after Italy sidestepped Eurozone rules on banking bail-outs to protect creditors of two failed lenders in the Veneto region around Venice.
Trading $2 lower per ounce in Asia overnight,
the gold price today
then plunged $10 from $1254 to hit its lowest Dollar price since mid-May at 9am London time.
Gold bullion also sank 1.5% versus the Euro – hitting its lowest price since end-January at €1106 per ounce – and traded 1.7% down versus the British Pound to touch 4-week lows beneath £972.
Silver also sank with gold at the start of London trading, losing 1.5% but then recovering half that plunge against all major currencies to trade above $16.60 per ounce in Dollars.
Platinum fell harder, down almost 2% to touch 7-week lows at $914.
"No-one has a clue, apart from the unfortunate individual
that pressed the wrong button
," Bloomberg quotes precious metals trader David Govett at brokerage Marex Spectron in London, blaming a so-called 'fat finger' for gold's plunge.
A frequent critic of 'point and click' trading via electronic exchanges, "These moves are going to become more widespread with the way things are going," Govett said.
Bullish betting on gold prices amongst hedge funds trading Comex futures and options
last week fell back below
its average since 2007, net of bearish bets amongst that same 'Managed Money' category.
That 'net speculative long' position has only grown above its 10-year average 8 times in 25 weeks of 2017 so far.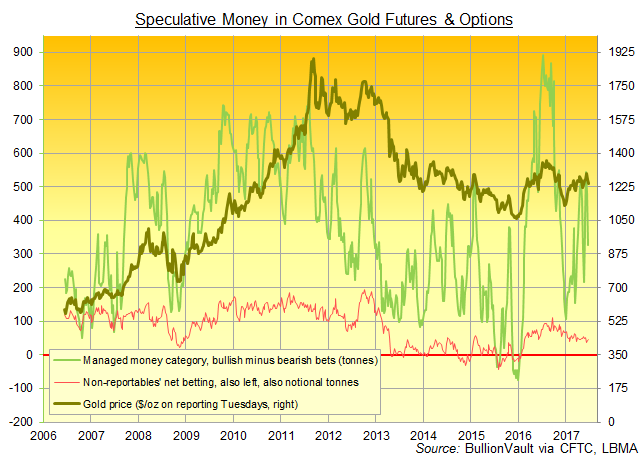 "This plan is a dagger in the heart of the Eurozone banking union," writes former FT columnist and current La Repubblica economics writer Ferdinando Giugliano of the weekend's €10 billion Veneto banking rescue.
"The government could have taken a less expensive route, involving the 'bail in' of senior bondholders…[but] many of these instruments are in the hands of retail investors, who bought them without being fully aware of the risks involved."
But "to avoid an economic disturbance in the Veneto region as a result of the liquidation of BPVI and Veneto Banca," said European competition commissioner Margrethe Vestager,
approving the decision on Sunday
, "Italy considers that State aid is necessary."
Gold in Dollars, says a trading alert from French investment bank Societe Generale's technical analysis team, "is now flirting with the bullish channel support that has contained the up-move since last December at $1241.
"A definite break below will signal the extension of the ongoing correction."
Shanghai gold trading had earlier seen the Yuan price rise to its highest level in almost 2 weeks, holding the premium above London quotes at $9.70 per ounce.