SPOT GOLD PRICES touched new 5-month highs against a falling US Dollar at $1275 per ounce in London on Wednesday, with the LBMA Gold Price benchmark fixing at its highest level since Donald Trump won the US presidential election last November.
European stockmarkets erased an early bounce, but commodities pushed higher with government bond prices.
Silver nudged above $18.40 per ounce in Asian trade overnight, but held shy of last week's 1-month top 7 cents higher.
Both the giant GLD gold ETF and the SLV silver trust fund added metal as their number of shares in issue grew amid Tuesday's price jumps, linked by analysts today to the rising geopolitical stand-off between
Trump's White House and Russian president Putin
's Kremlin over the war in Syria.
Looking at other currencies, gold priced in Yen has gained 3.5% so far in 2017.
The Dollar price of gold has risen 3 times as fast, adding 10.6% since New Year's Eve.
This morning's LBMA Gold Price auction in London – the global benchmarking process now regulated in UK law – saw demand rise 20% from the
last 3 months' average
at a fixing of $1272.30 per ounce, the highest wholesale gold price since
10 November 2016
.
Tuesday's 3pm benchmarking auction had
found zero demand
 from wholesale market dealers at the opening price of $1265.75, finally achieving a match between supply and demand – aggregated by bullion banks and dealers from their own client and in-house orders – down at $1252.90 per ounce.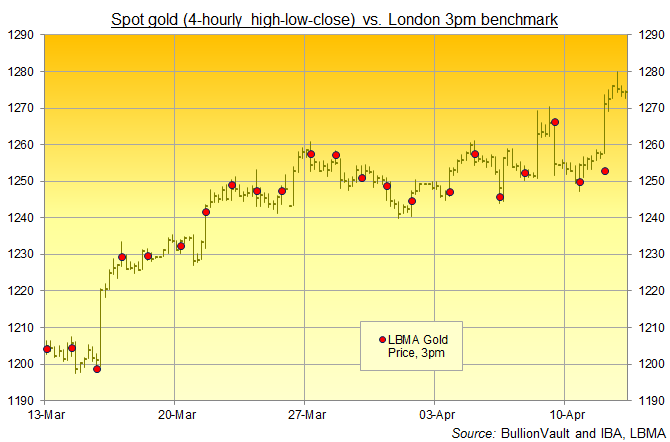 Over the last month, the 3pm LBMA Gold Price has fixed on average 0.30% above the lowest point of London's afternoon spot trading, and some 0.25% below that 4-hour period's high.
Tuesday saw the benchmark fix 0.37% beneath the spot market low and fully 1.63% beneath the afternoon spot high at $1273.69 per ounce.
Blaming a worsening lack of market-maker liquidity thanks to ever-stricter regulations, "It's
not just happening in the precious metals
markets, it is happening across all commodities," reckons consultancy CPM Group head Jeff Christian.
"We saw this trend starting in 2001 and in the last 15 to 16 years t has only gotten worse."
Again this morning, only 5 direct participants out of 13 approved for the LBMA Gold Price entered orders into the auction, with another 8 sitting on the sidelines.
Tuesday's gold price jump reflects a "tug-of-war between heightened geopolitical risks and… despite a
weak US payroll number
last Friday…a strong underlying global economy," says a note from US investment bank (and LBMA Gold Price participant) Goldman Sachs.
Coming just inside the benchmark Gold Price auction's tolerance for an imbalance between supply and demand of 10,000 Troy ounces, Tuesday's quarter-tonne of net selling was bought by all the direct participants, "shared out among [the full 13] equally," according to the
LBMA's website explainer
, "irrespective of whether they entered interest into the auction or not."
Chinese gold prices also hit their highest rate since early November in Yuan terms on Wednesday, but cut their premium over London quotes to $9 per ounce at the Shanghai PM Fix.
Almost 3 times the historic average, that offered the smallest incentive for new bullion imports to the world No.1 gold consumer nation since immediately after the
new year of the Rooster began
on the Chinese Lunar calendar at the end of January.