GOLD BULLION fell $5 per ounce from the $1200 mark Friday lunchtime in London after new US data showed stronger jobs growth than analysts forecast for the world's No.1 economy.
Silver held firmer at $14.14, heading for a 2.8% weekly drop, but
platinum prices
fell with gold bullion to show a 1.3% loss from last Friday's finish at $777 per ounce.
After figures yesterday put claims for US unemployment benefits near the
lowest in half-a-century
, Friday's
jobs data
said the US added 201,000 jobs in August, some 5% above Wall Street's expectations.
Government bond prices also extended their drop on the news, driving 2-year US Treasury yields back up towards last week's decade highs at 2.68%.
Wholesale gold bullion was on track for a 0.7% weekly drop as New York trading began.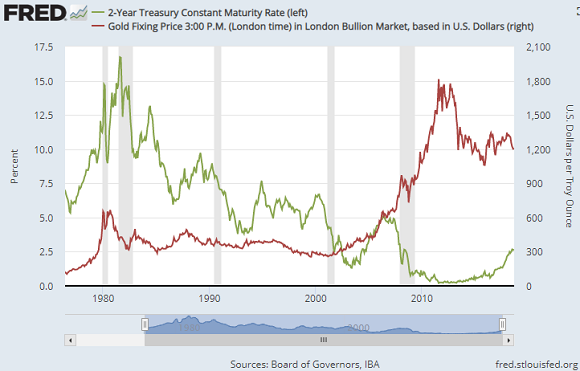 "Gradually increasing [interest rates] over the course of this next year makes sense," said 2018-2019 voting member Eric Rosengren of the Boston Fed to CNBC today.
"If things work out well for the economy, and that's what I expect and hope, then we'll be in a situation where we need to have somewhat
restrictive policy over time
."
With a Fed hike at this month's policy meeting now 100% certain according to betting on interest-rate futures, speculators have cut the likelihood of four or more rate hikes between now and September 2019 from 37% to below 25% over the last month on
data from the CME derivatives exchange
.
"Participants continue to fade any rallies through $1200 and until we see a sustained move…above USD $1215, it is difficult to hold long positioning."
The Euro also fell versus the Dollar on the US jobs numbers, dropping almost 1 cent for the day after earlier data confirmed that economic growth across the 19-nation single currency zone
slowed to 2.1% per year
in the April-June quarter.
The UK gold price in Pounds per ounce meantime dipped towards August's 31-month lows around £920 as Sterling jumped following news that the European Union's chief Brexit negotiator Michel Barnier is "open" to discussing solutions to the issue of a "hard border" between the Republic of Ireland and Northern Ireland – a key stumbling block for avoiding a "no deal Brexit" next March.
The Pound however failed to reach the high above $1.30 touched last week after
earlier comments from Barnier
about agreeing a deal with Britain "such as has never been with any other third country."
"Barnier sounds a
little bit more conciliatory
," Reuters quotes one FX strategist today, "and this could mean perhaps a little bit more progress has been made."
Barnier told UK lawmakers on Monday that "
more than 80% of the Withdrawal Agreement
has now been agreed on some major subjects…including citizens' rights, the [UK's] financial settlement [and] the transition period up until the end of 2020, [granted] at the request of the UK."
Tuesday then saw the DExEU's chief civil servant
refused to confirm
that temporary toilets are planned for March 2019 along the M20 highway in case of lorries queuing outside the key Channel port of Dover, but did say that private-sector suppliers working to prepare for a "no deal" crisis are under non-disclosure agreements.